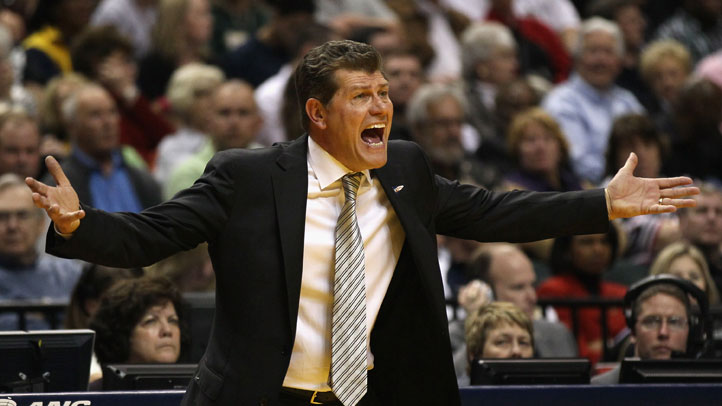 When you're three games into your college career, it should be relatively easy to match your career high. Chances are pretty good that you haven't had time to do much more than get your feet wet.

Well, UConn freshman Kaleena Mosqueda-Lewis did manage to match her career high on Monday night against Stanford. The difference? Her previous best came on Nov. 15 when she scored 25 points against Pacific. She did it again versus Stanford, helping the Huskies to a 68-58 win at the XL Center.

Mosqueda-Lewis and sophomore Bria Hartley (18 points) willed the Huskies to an early lead as their teammates struggled to find the bottom of the basket.

"I think me and Bria play really well off of each other," Mosqueda-Lewis said, via the Associated Press. "When one of us isn't scoring, one shoots the other is going in to rebound. If one is making defense plays, the other one is there to back `em up. So, I think we're a good combination."
UConn led 32-26 at the half before Stanford came out of the break with a 10-2 run. That ended with a Stefanie Dolson layup (it also ended an 0 for 24 slump from Huskies not named Mosqueda-Lewis or Hartley) and UConn went on a 15-6 to open things up.

"Tonight was Connecticut's night," Stanford coach Tara VanDerveer said. "They really were on a mission and I wouldn't take anything away from what they did. … It was like a November heavyweight fight. It was extremely physical and very good for our team to see that and get ready for it."

VanDerveer, like everybody else, recognizes that KML is something special.

"Kaleena Lewis is a great player and she stepped up tonight," he said. "We know she's an excellent shooter, I've watched her play since she's in the ninth grade."

By the time it was over, UConn had made just 25 of 70 baskets from the floor (36 percent). That number drops to 18 percent if you don't include KML and Hartley's 18-of-33 effort. Head coach Geno Auriemma was asked if he was pleased with how his team played.

"I think, at this time of the year, what you saw in the first five minutes of the game, offensively it is hard to have any kind of rhythm," he said. "I'm not surprised that we played pretty well defensively. I am surprised that we were able to be as effective as we were because the size advantage was against us. But we played so hard for 40 minutes and that's one of the better defensive efforts I have seen us have in a long time. I was pleasantly surprised by that."

Despite the way his team shot from the field, Auriemma won't deny that this is a very satisfying win.

"We talked about that afterwards in the locker room, how it was a win for us. I don't mean on the scoreboard because had we not won the game on the scoreboard, I think it was a win in a lot of ways because we won at a lot of things that I wanted us to win at. A lot of the things that [the coaching staff] has been stressing, we accomplished tonight. And to be able to win the is a huge accomplishment for this group."

Now the biggest question is how long until KML meets or exceeds her career high?