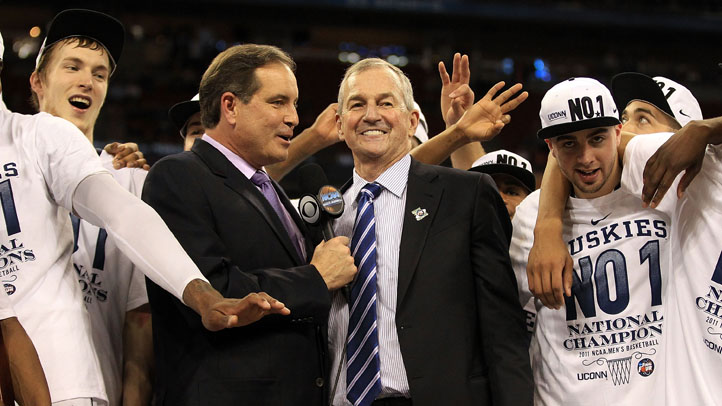 News -- good or bad -- comes in bunches. At least that's been our experience with the UConn men's basketball team this spring.

You're no doubt well-versed in the chronology by now: the late-season surge through the Big East and NCAA tournaments culminating in a national title; then a rough patch that included NCAA sanctions, a coaching departure and a player arrest (and transfer); and now things are back on the upswing.
Earlier this week, the Huskies landed 6-8 small forward DeAndre Daniels for the 2011-12 season, and now the word on the street is that 6-3 recruit Omar Calhoun will be headed to Storrs for 2012-13. Oh, and it appears Jim Calhoun will hang around for at least another year, too.

We wrote last month that Calhoun the Younger was interested in the Huskies but was concerned that Calhoun the Elder wouldn't be there.

"It would weigh into it a little bit for his decision," Omar Calhoun Sr. said in May when asked if Jim Calhoun's potential retirement would affect his son's college plans. "We believe in UConn and it's still going to be UConn. We still feel like Coach Calhoun is still going to have a major part still in the development in the program even if he's not the head coach. We believe he'll still have some type of representation on how these guys represent themselves. ... We're going to try and set up a visit in the next couple weeks to UConn."
So maybe that means Jim Calhoun will coach through the 2012-13 season?

Whatever, Omar Calhoun confirmed his decision to SNY.tv. "Yes, I committed to the University of Connecticut," Calhoun texted. "After spending quality time with Coach (Jim) Calhoun and the rest of the coaching staff, Coach (Kevin) Ollie and Coach (Glen) Miller and touring the campus my family and I felt UConn is the perfect place for me to continue my higher education academically as well as athletically."

Not a bad week's work for the Huskies, especially since there were concerns that losing assistant coach Andre LaFleur would negatively impact UConn's recruiting efforts. So far, no problem.

As for a scouting report, Calhoun is considered a top-10 shooing guard in the class of 2012, and ESPN.com notes that "What sets Calhoun apart is his ability to score the ball in a variety of different ways while still playing within the flow of the offense. He lets the game come to him and is also a good defender who competes on both ends of the floor."