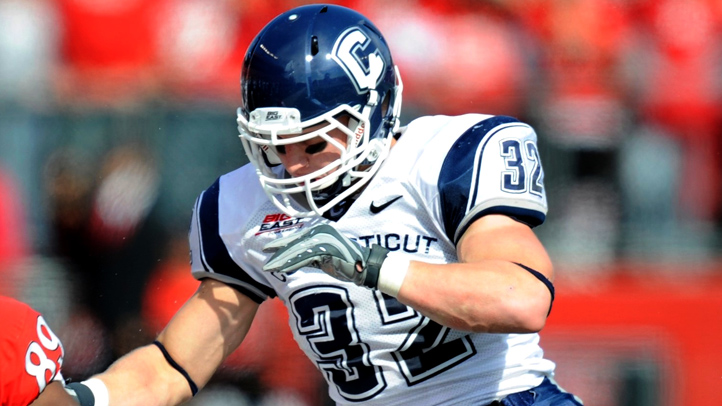 Yesterday we wrote that running back Jordan Todman and offensive lineman Zach Hurd showed well at the just-concluded NFL combine. But they weren't the only former Huskies to make an impression.

Linebackers Greg Lloyd, Jr., Lawrence Wilson and Scott Lutrus, previously thought to be taken sometime after the third round of the NFL draft, helped themselves by putting up solid numbers at the combine.

Among all the linebackers in Indianapolis for the combine, Lutrus finished near the top of nearly every event. And his former teammates weren't far behind. "I was OK with the drills, especially the position drills," Wilson said. "I thought I did very well with those. Coach [Todd] Orlando prepared us for five years and prepared us well for drills like that. They were things we've been doing throughout our college careers so yeah, all of our guys were used to the drills."

Wilson says he wants to improve on his 4.75 40-yard time at UConn's pro day later this month. Lutrus, who ran the 40 in 4.68, did not compete in the bench press. "It was because of my hand [injured during the Cincinnati game last season]," said Lutrus. "I've got about two more weeks of work on it, but I plan to do the bench at pro day."

Lloyd logged a 4.84 in 40. "He was great in the drills," Wilson said. "I was actually joking with Scott: I said this is our drill right here and we kind of laughed. … Lloyd caught all three of the balls thrown to him. Me and Scott actually dropped one. We were two out of three and Greg Lloyd was 3-for-3."

The takeaway? As always, the combine isn't about successfully reading coverages or understanding route combinations, but a means of comparing physical skills across players. Scouts and coaches learn about the above-the-neck stuff through interviews, game film and hands-on work at the events like the Senior Bowl.

As it stands, Todman will probably be the first former Husky to be drafted. And in all likelihood, he will get every chance to contribute immediately as a running back. There's a good chance Lutrus, Lloyd and Wilson will also hear their names called, but their path to making an NFL roster will go through special teams. Because unless you're a unique talent, rookies have to be able to cover kicks and punts. Otherwise, it could make for a short professional career.

In the meantime, Wilson and Lutrus will hone their skills at Bommorito Performance Systems in Weston, Florida.