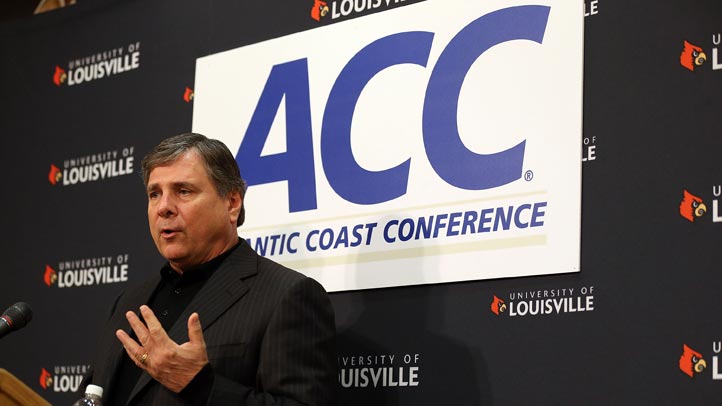 A few weeks ago, there was the very real feeling that UConn would finally get their Atlantic Coast Conference invitation, more than a year after the school could only sit idly by while Pitt and Syracuse announced they were leaving the Big East for the ACC. But with Maryland bolting for the Big Ten last month, the ACC wanted to move fast to find a replacement and UConn, along with Louisville, appeared to be the front runners.

Ultimately, Louisville got the nod and UConn was left wondering what, exactly, they have to do to escape the dwindling relevancy of the Big East. So what happened?

We wrote about it at the time, but the ACC favored Louisville because it gave the conference a new market, and because the school had leverage that UConn did not because it was also being pursued by the Big 12.

The Hartford Courant's Paul Doyle offered more details over the weekend:
When it comes to recruiting, fan base, support, won-lost record, facilities, bowl experience, high-profile coaches and connections in the Southern-states athletic world, the odds all favored Louisville, despite UConn's superior academic reputation.

Most important, Louisville has been better at football -- in a region with rich recruitment opportunities -- at the right time, when shifting alliances within the conferences have created opportunities. That was the tipping point for the conference, especially because the basketball programs at each school are both high profile.
"Louisville fans are passionate," ACC commissioner John Swofford said shortly after Louisville was announced as the newest member. "And that starts with the football and basketball programs, which enjoy excellent support."

While UConn's sports have ardent support, football trails both the men's and women's basketball teams. And since all this conference reshuffling is about football -- and the money that comes with it -- that's a huge problem. And it's not clear that will change anytime soon.

"UConn faces challenges with a lack of local talent, interest in professional sports regionally, a more popular game [basketball] on its own campus ... so wherever the Huskies end up, there will be challenges no matter what," said Scott Kennedy, director of scouting for Fox Sports Net, via the Courant.

So for now, the Huskies wait. The ACC could come calling at some point in the future but when isn't clear. So UConn will have to make the best of a less-than-ideal situation.