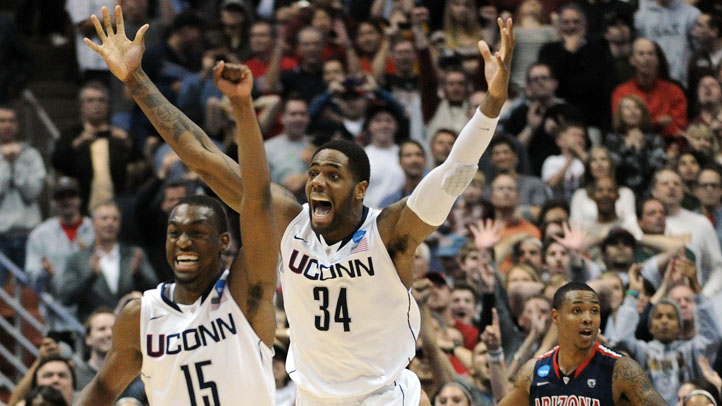 UConn built a seven-point halftime lead and withstood one Arizona run after another -- including two three-pointers in the final five seconds that didn't fall -- to eke out a 65-63 victory and a trip to Houston for the Final Four.

Just like Thursday's San Diego State game, the Huskies and Kemba Walker got off to a slow start. But this team, which has matured in dog years the last few weeks, didn't panic. Instead, UConn focused its energies into playing better defense (even if Arizona dominated on the glass), converting in transition, and, as always, waiting for Walker to find his stroke.

While Kemba is the first name that comes to mind when you think of the Huskies, he's not the only reason for their success. Far from it, in fact. To borrow a line from a mid-'90s indie hipster film and paraphrase Trent Walker: Jeremy Lamb and Shabazz Napier are all grown up.

The biggest stage hasn't been too much for the freshmen guards. In fact, they seem to revel in it. When the stakes are highest, Lamb delivers, whether it's a 3-pointer, a running one-hander in the lane, a huge steal or a momentum-changing dunk. The moment never overwhelms him. It happened against San Diego State, and it happened again versus Arizona. He ended the night with 19 points and two steals.

Napier, as was the case Thursday, didn't take the court until five minutes into the game. And as soon as he checked in it freed Walker to do what he does, and the Huskies went from trailing by eight to ending the half on a 22-7 run and a 32-25 lead.

Coach Jim Calhoun, easily Walker's biggest fan, told CBS at intermission that "We got 20 minutes left and we got Kemba." And that was all you needed to know.

Alex Oriakhi and Charles Okwandu both were in foul trouble in the second half but that's expected when your job is to stop one of the best players in the country, Wildcats forward Derrick Williams. Williams only managed six points in the first 20 minutes, but that's because he spent much of the half on the bench with three fouls. By the time it was over, he had 20 points, although his final look, a 3-pointer with 10 seconds left and Arizona trailing by two, only found iron. A few ticks later, the buzzer sounded, the Huskies bench erupted and UConn is a couple games away from a national championship. Suggest that three weeks ago and you'd get laughed out of the gym.

During the team's nine-game winning streak Walker has often been quoted saying "We just want to shock the world." After watching what the Huskies did in the Big East Tournament and now in the Big Dance, I'm pretty sure there's nobody left to shock. People know how good UConn is.