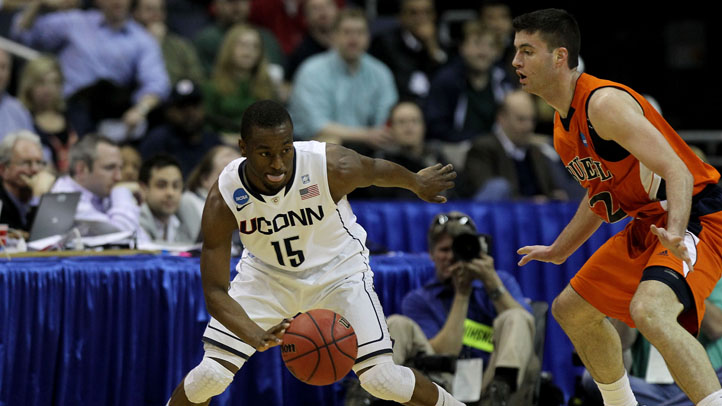 That makes six. After whipping No. 14 Bucknell 81-52 in the opening round of the NCAA Tournament, No. 3 UConn extended its winning streak to six games. The Huskies reeled off five victories in five days last week during the Big East Tournament, and after what they did to the Bison Thursday you could make a case that they are one of the best teams in the country.

Say that a month ago and at best someone laughs in your face; or worse, they have you committed. But now it doesn't sound so crazy.

Going into the game, Bucknell had one goal: stop Kemba Walker. And that's exactly what they set out to do. Except that Walker had no intentions of indulging them.

Instead of what we have come to expect from Walker -- breaking down his defender off the dribble and getting to the rim, he chose to run the offense, get teammates in the proper position and distribute the basketball. Walker was instrumental in getting freshmen Roscoe Smith and Jeremy Lamb off to torrid starts. In fact, he didn't take his first shot until nearly five minutes into the game (a missed three-pointer).

The Huskies ended the first half on a 12-2 run and led 39-22. Smith and Lamb combined for 21 points, Walker added just six more, but he also had six assists.

And then things really got out of hand. UConn went on a 15-0 run to begin the final 20 minutes and led 57-25 before Bucknell could manage a basket. The rest of the half amounted to a Huskies highlight reel starring … well, everybody. In addition to the usual suspects (Walker and Lamb), Smith, Alex Oriakhi, Shabazz Napier and Tyler Olander all made important contributions. From threes to points in the paint to rebounds to dunks, it was all working for the Huskies.

It was going so well that Walker, who took a breather with 12:48 to go in the final half, made his way to the bench for good with 3:47 on the clock. His final line: 18 points, 12 assists (a UConn NCAA Tourney record), 8 rebounds and 2 steals. Any doubts about Walker being just a one-dimensional scorer were erased for good with this performance. More than that, after a grueling run through the conference tournament a week ago, the Huskies' best player could use all the rest he can get.

Just as important as keeping Walker fresh? Making sure his young teammates remain confident. It was a legitimate concern early in the season when the freshmen and sophomores were still figuring out how they fit into an offense built around Walker. Now, not only does everyone knows their roles, they are excelling in them. Even if that means Kemba is passing first and shooting second.
That's a scary thought.

Next up: Saturday UConn will face the winner of the Cincinnati-Missouri game.