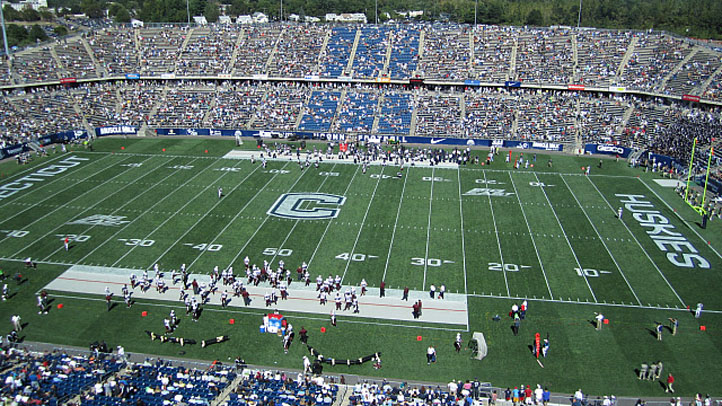 It wasn't that long ago that UConn made the jump from Division I-AA (now called the FCS) to the big time. And now, the Huskies' opponent in the regular-season opener, UMass, is beginning that same journey. The Minutemen were powerhouses in the FCS but they've graduated from the small pond and their first test will come against the Huskies, a team looking to improve on a five-win season in Paul Pasqualoni's first year as coach.

But here's the thing: UMass won't arrive in Rentschler wide-eyed and awestruck. For starters, this rivalry goes back years. More than that: this team isn't short on confidence.

"I think this first game is going to be a big statement game," UMass senior safety Darren Thellen told the Associated Press. "Nobody is coming into the game saying, `I want to lose.' But, as long as we come out and compete and do well, I think a lot of respect will be given to us."

Pasqualoni was a little more diplomatic, welcoming the opportunity to face an old rival.

"We are very excited about it and the possibilities and potential of what Connecticut-UMass could be," he said. "Playing UMass would give us a chance to have an Eastern game regardless of the location. It's exciting for fans, easy to get to and has a chance to be just a great game."

The teams first played in 1897 and in 71 games since have slightly favored UMass: 36-33-2. The last meeting was in 1999, before UConn left for the FBS. The Huskies are slight favorites Thursday night -- the Vegas line is hovering around -22.5 -- but the first week of the season is filled with unknowns.

But the Minutemen are a team in transition. In addition to their first-year FBS designation, they also have a rookie coach in Charley Molnar and they'll start redshirt freshman Mike Wegzyn.

"It's always good to play against a freshman, because they still are learning," UConn defense end Trevardo Williams told the AP. "So we're going to go out there and put pressure on him and have some fun. Our job is to cause chaos."

And chaos begins promptly at 7:30 p.m. on Thursday.