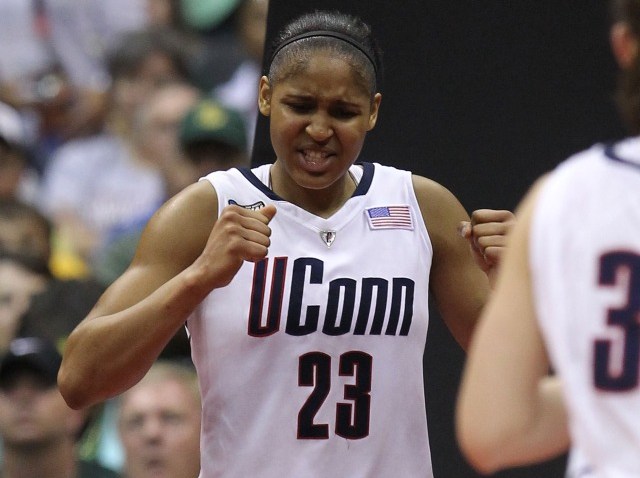 For most programs, being ranked No. 1 is noteworthy. For the UConn women's basketball team, it's just one more day between the start of the season and their ultimate goal: another NCAA championship.

With three games left in the regular season, the Huskies are now the top-ranked team in the country for the first time since January 3. That's what happens when you shellac eighth-ranked Notre Dame, 78-57, and the former No. 1 team, Baylor, loses to Texas Tech.

When teams are playing well, you'll sometimes hear that the home court advantage -- the familiar surroundings, the fans, the quirks -- are good for three or four points a game. For UConn, playing in Storrs -- regardless of the competition -- often means wins by double-digit margins.

"When Duke and DePaul visited Gampel Pavilion, the two top ten teams suffered blowout defeats to the No. 2 UConn women's basketball team," Colin McDonough wrote in The Daily Campus. "On Saturday, No. 8 Notre Dame traveled to Storrs and suffered the same fate as the Blue Devils and Blue Demons."

The average margin of defeat for the three top-ten teams? 30 points.

While the victories are always nice, rankings don't mean much if the season ends with the Huskies falling short of their ultimate goal. Which explains coach Geno Auriemma's nonchalant attitude toward the news of UConn's new top-ranked status.

"When you've been No. 1 as much as we have, it's lost all its pizazz," Auriemma said.

The first sign that the Huskies were headed back to No. 1 came during the Notre Dame game. When the Baylor-Texas Tech score was flashed in the arena, UConn fans cheered wildly. That prompted Auriemma to offer this: "I didn't realize how many Texas Tech fans we had in our building..Standing ovation because a team in the Big 12 lost a game. Dumbest thing I've ever heard."

You can say that when you have seven NCAA titles, 15 Big East championships, and 14 Big East Tournament championships. Even if you almost left the program to coach a men's team.