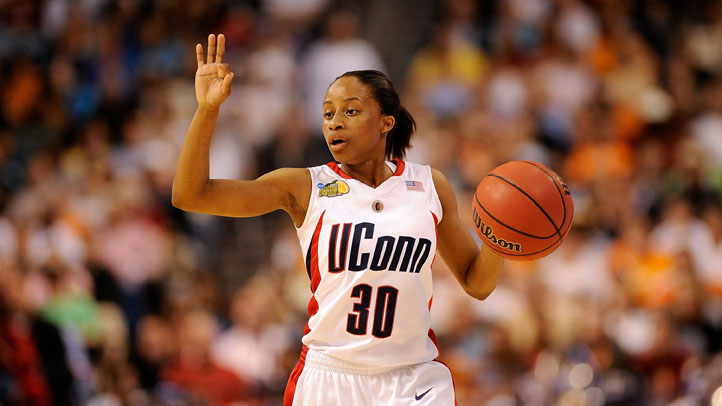 It took two NCAA Tournament games and 30 minutes into the Sweet 16 match-up against Georgetown, but Maya Moore finally took over. UConn trailed by as much as seven points and was outplayed and out-hustled by the Hoyas for most of the afternoon. And then the other Huskies senior, guard Lorin Dixon, swung the momentum and her teammates followed.

Typically, when you talk about UConn seniors, the conversation begins and ends with Moore. But Dixon came off the bench, made two huge baskets that kick-started an offense that had been off all game, grabbed rebounds, dived for loose balls and set the tempo for her teammates. And it was Dixon's spark that helped propel the Huskies past the Hoyas, 68-63, and into the Elite Eight.

After UConn's second-round tourney victory over Purdue in Gampel Pavilion, coach Geno Auriemma talked about how far Dixon has come in her career. "These last three weeks Lorin Dixon has made more progress than she has probably in the last three and a half years."

After Sunday's victory, Auriemma spoke about his decision to go with a smaller lineup.

"[Georgetown] was going right at Stefanie [Dolson] and I just thought if we opened the floor up and give us a few more opportunities to get out in the open floor … and Lorin Dixon had just an incredible effect on our team."

Moore agreed. "Lorin Dixon … set the tone. She set the tone on defense. I think we all started talking more (after she came in) and I was proud of the way we responded."

Think about that for a minute. Auriemma had enough faith in Dixon, UConn's sixth man, that he took out Dolson, who has been dominant late in the season and dropped 24 points on Georgetown the last time they played.

Dixon responded in a big way. And once her energy spread to her teammates, the Hoyas didn't have a chance. The problem, of course, is that it took UConn so long to get comfortable.

"It's not a problem when Maya struggles if other guys are making shots," Auriemma said. "It's a problem when Maya's struggling and the other guys aren't making shots, then we just don't have very many ways to score. Once we started moving her around a little more and she started be a little more active on offense, we found her a lot easier and, you know, she just makes big shots. So even if she doesn't make a lot of them, she makes the big ones."

After a slow start, Moore ended the day with 23 points, 14 rebounds and was nearly unstoppable in the final minutes.

If the Huskies hope to win a third championship in three years, they will have to be more consistent. They know this. "If we don't have that intensity at the end of the game the entire game then teams will beat us," said Moore. "But it goes to show that we have it in us, we just need to maintain it for 40 minutes."

UConn will play the winner of Duke-DePaul on Tuesday at 7PM.