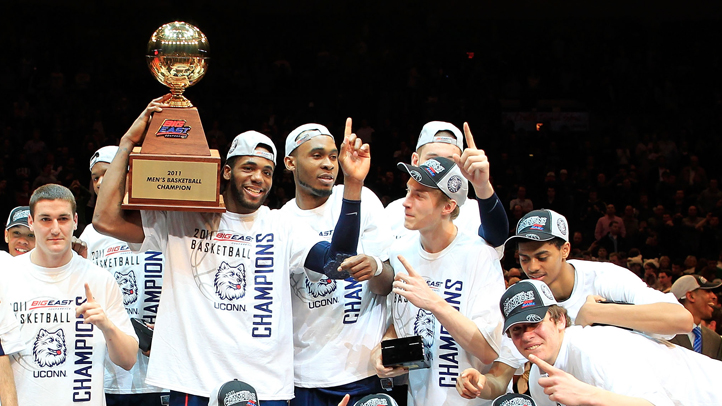 Here's what I wrote the day after the Huskies defeated Butler in the National Championship game earlier this month:

"Much of the conversation … was about how poorly both teams played on the sport's biggest stage. It's an easy conclusion to draw when the final score is 53-41 and the losing team shot 18.8 percent from the floor."

But I added, "The Huskies played their best defense of the season during the NCAA Tournament. Against Butler, the tenacity, the rebounding, the boxing, out, the blocked shots -- it was all there."

It was that last bit, about just how well UConn's defense played, that was often overlooked when many media outlets recounted the championship game. Thanks to SI.com's Luke Winn, we now have definitive proof that the Huskies defense wasn't just good against Butler. It was suffocating to the extent than Butler's offense came to a grinding halt.

In simple terms, UConn contested, altered or blocked more Butler shots than any other team had in the tournament. Winn compared Butler's offensive performance against UConn, VCU (Final Four) and Pitt (2nd round). The findings: the Huskies contested, altered or blocked 61 percent of all Butler shots; the Rams were only good for 53.4 percent, and the Panthers managed just 52 percent. Put differently, against UConn, two of every five Butler shots were uncontested. Against VCU and Pitt, that number was closer to one out of two. That's the difference between winning a close game and shooting 18.8 percent.

While much of the focus on this year's Huskies team was on Kemba Walker -- and for good reason -- coach Jim Calhoun has mentioned several times in recent weeks just how far freshman guard Jeremy Lamb has come defensively. In fact, Lamb's block of Shelvin Mack's three-point attempt early in the title match-up set the tone for the rest of the night and left Mack impressed. "They would contest shots that people normally wouldn't be able to contest," he said immediately after the game.
And it was Lamb's ability to defend one-on-one that played a big role in UConn's game plan. From SI:
[UConn] had focused on shutting down the paint all season, ranking seventh nationally in two-point field-goal defense, at 42.4 percent. And while their Big East counterpart Pittsburgh gave Butler a number of interior buckets off ball screens -- which the Bulldogs almost always run after their initial set -- the Huskies did no such thing. Their coaches thought they might need to … double Mack off those screens, but once they realized Lamb could contain him after a brief hedge, they called off the double. The effect of this, according to associate head coach George Blaney, was that UConn remained in great position to guard the other four Butler players, and prevented Mack from ever passing the ball ahead to an open man.
The 2011-2012 Huskies won't have a player capable of scoring 30 points a night, but there's no reason to think that the defense won't be just as stifling if not more so. And teams that play solid defense will always have a chance to win. Just ask Butler.