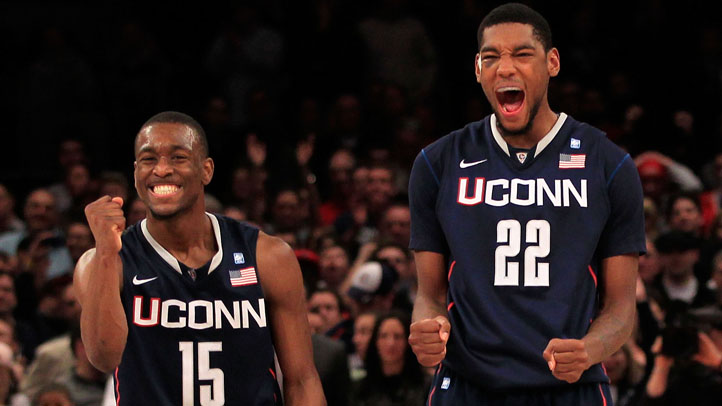 Last March, UConn was 17-15 and headed to the NIT. They eventually lost to Virginia Tech in the second round and the season, to put it bluntly, fell short of expectations.

The 2010-2011 season has had its rough patches -- NCAA sanctions, stretches of uneven play and inexplicable losses -- but coach Jim Calhoun has said more than once that this group has been one of the most rewarding to work with. So it's only fitting that after nearly five months of figuring things out, a team comprised of a savvy superstar and a bench full of freshmen and sophomores learning on the go would pull off the impossible: five games in five days against some of the country's best competition, and emerge from the other side victorious.

But here we sit, two days after the Huskies beat Louisville in the Big East Conference Championship and three days before they face Bucknell in the NCAA first round. No. 3 UConn (26-9) will face No. 14 Bucknell (25-8), the Patriot League regular season and tourney champs, who also have wins over Richmond and Boston College.

The Huskies have Kemba Walker -- this is news to no one -- but what has changed from the beginning of the season is that he now has a legit supporting cast. Contributors seems to grow with each game but the name at the top of the list has to be freshman guard Jeremy Lamb, who has hit more big-time shots in a week than some players get in a lifetime.

"Kevin [Ollie] was saying Jeremy has a little bit of Rip Hamilton in him," Calhoun said Sunday evening, according to the Hartford Courant. "You thought it was a big shot. He didn't. He thought it was just a shot. Jeremy isn't exactly a worrier."

As the Courant's Jeff Jacobs writes, Calhoun didn't specify which of Lamb's shots he was referring to, but that could be because it has become a regular occurrence.

But Walker's leadership goes beyond what he does on the court. He also mentors his younger teammates, which sounds funny when you remember that he's just 20. But in case it wasn't obvious already, Walker's not your typical 20-year-old.

"You can say I'm the big brother," Walker said. "If you have problems on this team, they come to me. I'm the leader of this team, me and Donnell Beverly, and we're going to lead."

And while Calhoun knows that Walker is the engine that drives this team, he understands fully that the maturation of his young players is probably more important to the Huskies' success.

"This is a really good young team that has to realize how good it is and then turn that confidence into focus," Calhoun said. "That's the biggest thing we did [in New York.] "We do a lot of talking to Roscoe Smith on a personal basis. We found out he doesn't take criticism nearly as well as Jeremy. Jeremy just kind of shrugs it off now. Roscoe may take it personally. I was talking to Alex's [Oriakhi] mother late [Saturday] night when I got back to the hotel. She was saying about how much I've instilled in him. Well, some of the things I've said haven't exactly been motivational. But Alex so wants to please, to do well, and feels he disappoints you if he doesn't."

Managing a group not long removed from high school is no easy task. That Calhoun understands as much is a big part of the battle. And if anything, this team is battle-tested, which should serve them well going forward.

In fact, the Boston Globe's Mark Blaudschun thinks UConn will beat No. 1 Duke to get to the Final Four. Pretty sure nobody was making such proclamations a week ago.