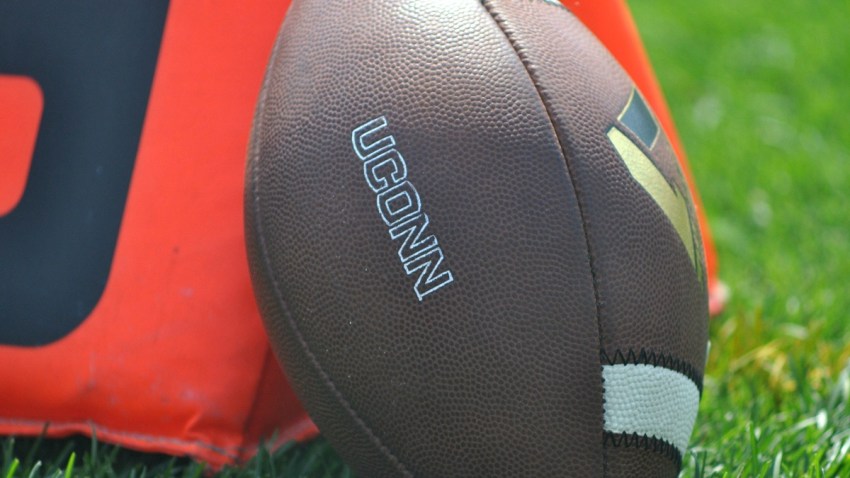 Willie Taggart is confident his plan to turn around South Florida's struggling football program is working.
Shrugging off a week of criticism in the wake of a lopsided loss to North Carolina State, the Bulls opened American Athletic Conference play with a 17-14 victory over Connecticut on Friday night.
"We've got to stay positive," Taggart said after Mike White passed for 113 yards and a touchdown in the rain to help the Bulls (2-2, 1-0) hold off the Huskies (1-3, 0-1).
White threw 30 yards to Rodney Adams and Marlon Mack ran a yard for first-quarter TDs that provided USF's defense with much of the offensive support needed to prevail.
USF rebounded from a 49-17 loss to N.C. State in which they were limited to 159 yards total offense, with nearly half of that coming on White's 75-yard TD pass to Ryeshene Bronson. Friday's win matched their victory for all of last season, when they beat Cincinnati and UConn before ending the year on a six-game conference skid.
"Last week we stepped in a ditch. I told our guys we needed to stay focused on the plan, block out distractions and get out of that ditch," Taggart said. "Our guys were confident all week. ... When things went wrong, they didn't get down on themselves. They stayed upbeat."
Chris Dunkley sacked UConn's Chandler Whitmer, forcing a fumble that the USF cornerback recovered at the Huskies 19 to set up Mack's TD for a quick 7-0 lead. White's scoring pass to a wide-open Adams on fourth-and-10 made it 14-0 late in the opening quarter, and the Bulls added a fourth-quarter field goal to make it 17-7.
UConn pulled with three points on Whitmer's 32-yard TD pass to Geremy Davis with 1:19 remaining. USF recovered the ensuing onside kick and ran out the clock.
First-year UConn coach Bob Diaco said despite his team's slow start, which also includes losses to BYU and Boise State, the Huskies are building an identity.
"I continue to be proud of a lot of the work that's done and a lot of the investment that's made. You can see a DNA. You can see a culture fortifying itself, and you can see that in a lot of areas," the former Notre Dame defensive coordinator said. "We still are not executing on offense right now, and it's much harder to operate at the beginnings of the program. There are a lot of immature players there, and we did things throughout the game, and in the beginning in particular, that create losing. You can't start winning until you start losing."
It was another close game in a series USF leads 7-5. The last eight meetings have been decided by seven or fewer points, and neither team has scored more than 19 in the last five matchups.
UConn scored on Byron Jones' 70-yard interception return just before halftime, but had little success moving the ball until their final possession of the night.
The Huskies managed only 41 yards and on 18 plays in the first half and finished with a season-low 145 yards overall — more than half coming on the drive that ended with Whitmer's TD pass to Davis.
UConn didn't pick up its second first down of the night until Arkeel Newsome broke a 16-yard run midway through the third quarter. Three plays later, Whitmer got his first completion.
The UConn quarterback finished 6 of 10 for 88 yards and no interceptions. The TD pass to Davis extended the receiver's streak of consecutive games with at least one catch to 30.
A week after yielding 589 yards to North Carolina State, the USF defense limited UConn to 57 rushing and didn't allow the Huskies offense to cross midfield until the final two minutes.
Mack rushed for 103 yards on 31 carries for the Bulls, and White completed 10 of 18 passes with one interception.
Copyright AP - Associated Press