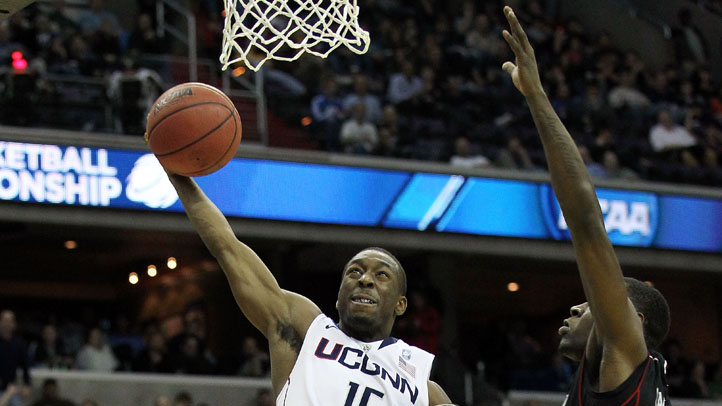 There were some double-takes when Kemba Walker wasn't a unanimous first-team selection to the Big East all-conference team. But he was subsequently named a first-team All-American and over the weekend, as the Huskies were making their way to the Sweet 16, Walker was named a finalist for the Naismith Player of the Year Award.

Given what he's meant to UConn this season -- and coach Jim Calhoun's incessant insistence that Walker is the best player in the country -- it's only fitting … even if at least one Big East coach didn't think enough of Walker to cast a first-team all-conference ballot for him.

None of that matters now; the Huskies are Big East tournament champs, 2-0 in the Big Dance and headed to Anaheim to face No. 2 San Diego St. in the Sweet 16 later this week.

Walker joins BYU's Jimmer Fredette, Duke's Nolan Smith and Ohio St.'s Jared Sullinger as the other national player-of-the-year finalists.

Even though Walker is listed at 6-1, 172 pounds and averages 38 minutes a game, he's playing as well now as he has at any point in the last five months. That's a testament not only to his importance to the Huskies, but also that he's rightfully considered one of the four best players in the country. Details of his accomplishments courtesy of the Hartford Courant's Mike Anthony:
Kemba Walker now has 875 points, the most points scored by a UConn player in one season. Donyell Marshall had 855 in 1993-94.
Walker is now sixth on the all-time UConn scoring list. His 33 points against Cincinnati gave him 1,693 and pushed his past Cliff Robinson (1,664) and Wes Bialosuknia (1,673). Ben Gordon is sixth with 1,795.
Walker now owns the record for most 30-point games in a season with 10. Bialosuknia scored 30 or more nine times in 1966-67.
Walker had 51 points, 17 assists and 14 rebounds in two games at the Verizon Center. He made all 20 of his free throws.
It's that last number -- all the made free throws -- that will probably keep Cincinnati coach Mick Cronin up at night.

After the Huskies dispatched the Bearcats on Saturday night, Cronin explained his team's game plan for stopping Walker:"We didn't want to foul him. He's 14-for-14 from the foul line, so that was the difference in the game. Gotta make people make shots. I think Coach Calhoun could have got 30 if we'd have given him 14 free throws."

While San Diego St. is more athletic than Cincy, their first job on the defensive end will be finding a way to stop Walker. And now that his supporting cast is playing with confidence and a little experience, it becomes that much tougher. Not only are the Huskies peaking offensively, but they are gelling on the defensive end, too.

"I thought we played great, great defense," Calhoun said after the victory over Cincinnati. "…And in the second half … I thought that Kemba got us going, and then I thought it was -- actually I don't want to say this too loud, but this is the best defense that [freshman] Jeremy [Lamb] has played since he's had a uniform on at UConn. Once we started to lock down defensively and make some stops and really, really started running better and doing some offense better, the game was much better for us."
It's hard to believe that this is the same team that lost four of five games to end the regular season. In the seven games since they are 7-0.