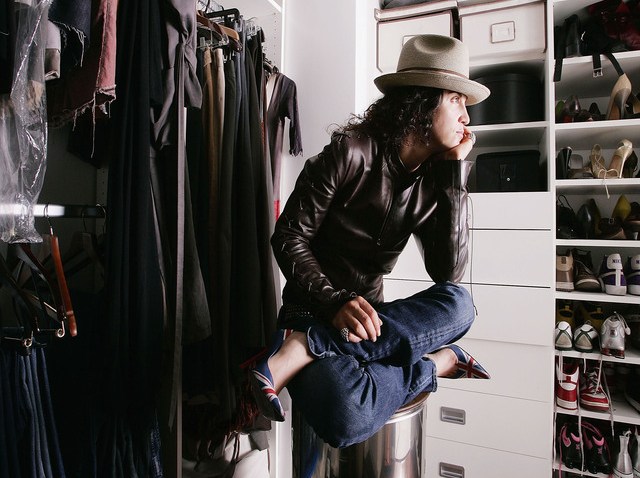 Do you have your closet scanned and ready? Tonight is the Swap & Shop event at Blue Back Square in West Hartford from 5-8:30 PM. We see only perks in this situation...
You can finally remove all the unworn goods from your closet without waiting for a consignment store pay-off, plus, you can trade them in for something "new to you" and fabulous without spending a dime. We'll be there, surrendering our own impulse buys of those trends that looked oh-so-tempting off the rack but didn't set well with the flattery or finance factors in our lives.

Wondering what you should ditch? Our Top Five:

1. Wide-Leg, high-waisted pants that seemed like a good idea in theory but create the most undesirable silhouette ever. That is, unless you're the 5"11 leggy type that can pull them off. Send them off for something that's more figure-friendly, we're sure there will be a super model in training there that will thank you.
2. Cashmere Sweater you got on sale in the color that really does nothing for you. Yes, it was cheap, yes, it was gloriously soft. But it won't do anything for you if it's a color that also looks terrible on you. Bring it in, dry-clean fresh, and trade it in for a ticket into the Couture bin at the Swap & Shop to find something in a color more suitable for your complexion.
3. Got a job? Love it? Regret buying all those powersuits before finding out that the office dress code was business casual? Keep your business best, but recycle the suiting you suspect might not see the light of day within the next two years and swap it out for a classic everyday piece. You walk out with a chic trend jacket, like a velveteen blazer or boucle crop, and some hip go-getter retrieves your black wool-rayon blend for her next big break, everyone wins.
4. Fat Jeans. Want This hates fat jeans. Keep your skinny jeans, but the fat jeans... they've got to go. First off, they're likely to be in delicately worn condition and second of all, their absence will serve as motivation to get our butt to the gym every morning. Just refrain from making eye contact when you spot someone else scoping them out.
5. Embellished party tops, sequin cocktail dresses, anything that is so memorable that you can't imagine being photographed twice in it. (As foolish as it, if it's on Facebook, you'll probably think twice about wearing it again.) Sure, it might be a nice memory hanging in your closet, but it's more practical to pass it on.
To register for Swap & Shop, e-mail Debbie Wright and tell her NBC's Want This sent you!
Check us out on Twitter for live photos from the event and our favorite finds!