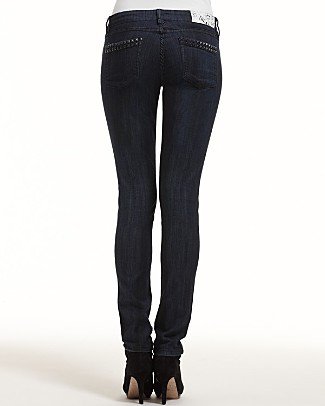 FRUGAL, ME? NO....: Our poor old blue jeans. We've let them run to tatters. With stiletto ripped hemlines and a disappearing "miracle" wash, these babies cost us just ... a mere $200. Well, maybe this year our resolution will be to stop spending so much cash on denim that we have full intentions to destroy and splatter with gin. Luckily, we've found a healthy nighttime alternative with Blank NYC Jeans, trendy skinnies that typically ring in under $75.

They've learned to run with the big dogs, included in the ranks at Intermix and Saks Fifth Avenue, but have now arrived in Connecticut with full vengeance on the bar scene. Their collection is packed with studded details, slim fits, and dark washes so it's no surprise they've won our hearts and our wallets over.

BUY IT: Find the newly arrived Blank NYC Denim Collection at Ciao Bella at 36 Wall Street in Madison, starting at $68.