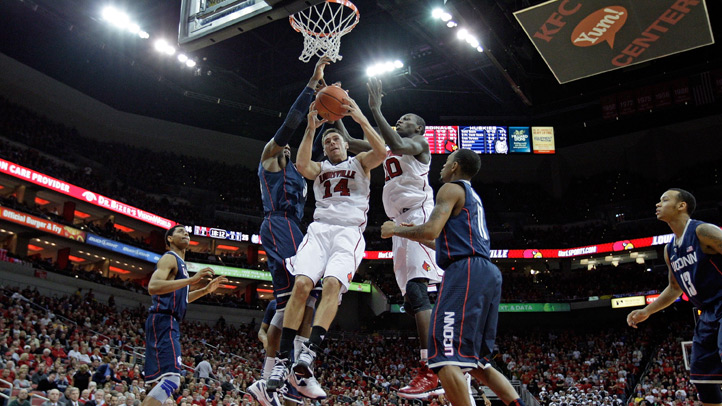 There are losses and then there are losses. On Monday night in Louisville, the unranked Huskies were on the receiving in of the latter.
A second-half no-show performance took a 29-24 halftime deficit and turned it into a 80-59 blowout.

Freshman big man Andre Drummond didn't score and the team's two backcourt leaders heading into the season -- Jeremy Lamb and Shabazz Napier -- accounted for just 16 points. Freshman point guard Ryan Boatright was the lone bright spot for UConn, scoring 18 points (in addition to five assists and four steals).

Everything else over the final 20 minutes was some of the most frustrating basketball you'll ever see -- at any level. The Hartford Courant's Jeff Jacobs says the Huskies "quit" in the second half. Frankly, that's unfair to quitters.
A look at the shot chart in this game is alarming. UConn hit two shots beyond 10 feet in the first half. Shabazz Napier hit a jumper. Alex Oriakhi hit one. That's it. UConn was 0-for-7 on threes. Blaney praised the effort in the first half. The Huskies outscored Louisville 16-10 in the paint, outscored Louisville 7-2 on second-chance points and trailed only by one 18 minutes into the game. …

After Napier missed one shot by three feet early in the second half, the fans taunted him and then other Huskies with, "Air-ball!" even before they shot. Yes, that's embarrassing.
Yes, yes it is. But UConn's struggles aren't a mystery. It's as simple as this: they can't consistently put the ball through the net.

"I try to work hard on defense, but I can't hit a shot," Lamb said on Monday night. "I'm in a bad slump right now. I'm not knocking down open shots. When I get the rim I feel like I'm getting offensive fouls that aren't offensive fouls. I'm just not good on offense."

Now 15-8 and ninth in the Big East, the Huskies are reeling. The paraphrase Louisville coach Rick Pitino back when he was with the Celtics, Kemba Walker ain't walking through that door. Which means that the current cast of characters -- many of whom were apart of last year's championship team -- are going to have to figure out how to fix this. So far, they haven't had any luck.

On the other hand, the 2010-11 club -- even with Kemba -- didn't really get going until March. We just wouldn't advise waiting around that long.