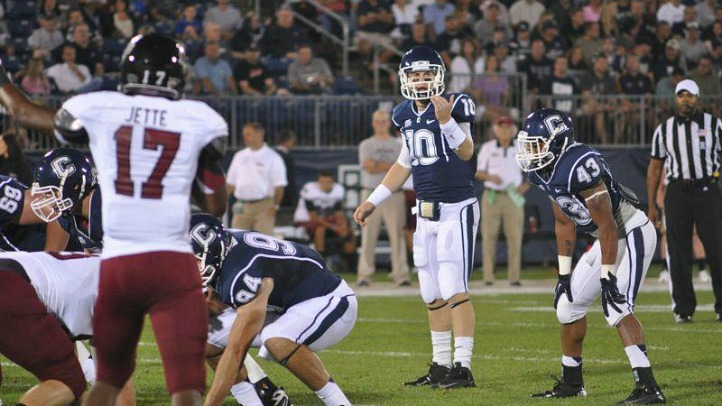 There was a lot to like about the Huskies' season opener against UMass and it starts with sophomore starting quarterback Chandler Whitmer. A year ago, there were questions about the position. Now the only question is just how good this offense can be once Whitmer finds a rhythm.

UConn won easily, 37-0, with touchdowns on offense, defense and special teams. The defense looked every bit as menacing as it did a year ago -- if not more so -- and kicker Chad Christen, 3 for 3 on the evening, appears undaunted by having to replace Dave Teggart. But it's Whitmer whose star shined brightest even if he wasn't as sharp as he'd like to be.

By the time it was over, the junior college transfer completed 15 of 25 passes for 219 yards. He didn't throw a touchdown but had two interceptions -- one a great play by the defender on a ball that was headed out of bounds, the other a (FBS) rookie mistake. If there was one criticism of his play is was that Whitmer stared down his receivers. Against UMass, he got away with it for the most part, but better competition will exploit the weakness. But it's still August and Whitmer showed a command of the offense, a willingness to stay in the pocket -- and hang tough while there -- accuracy and good arm strength.

We have to imagine that this is exactly what coach Paul Pasqualoni and long-time offensive coordinator George DeLeone had in mind when they recruited the former Illinois player to Storrs. If nothing else, Whitmer's presence should take some pressure off sophomore running back Lyle McCombs, the Huskies' only offense a year ago. The UMass defense played to stop the run Thursday and were mildly successful -- McCombs had 82 rushing yards on 23 carries -- but as Whitmer and the passing game continue to develop, opposing defenses won't be able to focus solely on one phase of the game.

That's great news for a Huskies' offense without much of an identity last season. But any high-fives and back-slaps will have to wait; UConn hosts NC State next.