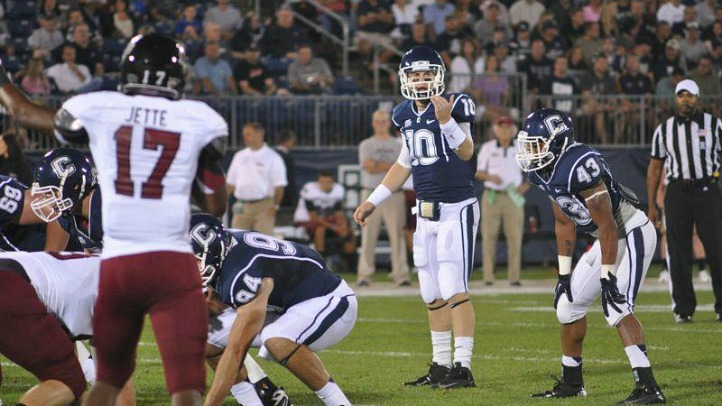 "Inconsistent" is the word most often used to describe the Huskies offense, but there are reasons for optimism, especially compared to last year's unit. Yes, redshirt sophomore Chandler Whitmer needs to make better decisions, but he has the potential to be really good. And he and sophomore wideout Geremy Davis are already on the same page. Through four games, Davis leads the team with 17 receptions for 236 yards.

The two look to build on that chemistry against Buffalo on Saturday, something that began during the offseason.

"We put in a lot of work this summer and back home in Georgia," Whitmer told the Journal Inquirer's John Silver. We got into some throwing sessions and we were able to build some chemistry," Whitmer said. "He did a great job working hard; he's precise and runs great routes and he catches the ball with his hands."

Davis is not only a big target, he's a big-play threat, as evidenced by his 13.9 yards per catch. And now the chemistry lesson is extending beyond the basics; Whitmer says the two are working on timing routes that when executed properly are nearly unbeatable.

"That's the advantage the offense has over defense," he said. "The offense knows where the ball is going and the defense has to react. If we get the ball out before they react, it is pretty unstoppable."

For Whitmer, it's all part of the process of learning a new system on a new team with new players. He's extremely athletic, but he's also raw. As we mentioned following the NC State loss a few weeks ago, for this offense to improve -- and to consistently put points on the board -- Whitmer needs to look off defenders before committing to a receiver. But that, the timing routes, developing a rapport with his teammates -- it's all part of the experience of growing into a legit FBS quarterback.

"If we are able to execute, and it's good on our end, we can't be stopped," Whitmer told Silver. "It's not as easy as it sounds, but that's what we work and strive to do." And when the offense gets to that level of comfortability, the Huskies will be a consistently competitive team. And, really, that's all you're looking for.