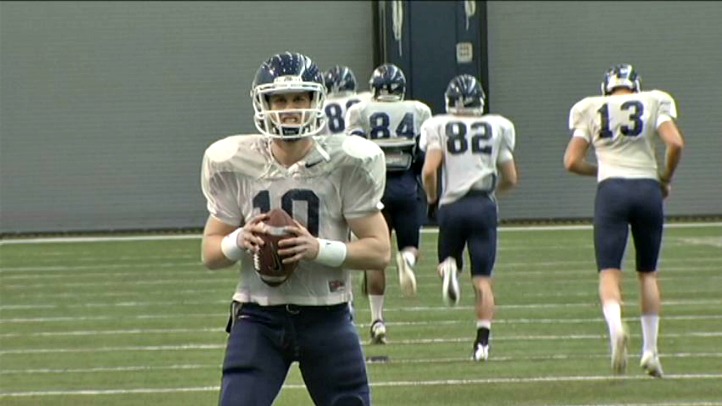 Earlier this week, UConn coach Paul Pasqualoni continued with the usual talking points about the unsettled quarterback situation. Basically, he'd like to have a starter in place at least a week prior to the season opener against UMass on August 30, but beyond that, he wasn't ready to make any grand proclamations.

But perhaps his comments at the Big East media day offered a glimpse into his thinking.

"I am not patient," he said. I don't know if I am patient enough, but if I don't feel it is right, I will be disciplined enough to get it right. You all, and any coach in the country. If I can make the decision, the sooner, the better. I am all on board with that."

Junior college transfer Chandler Whitmer was the media and fan favorite for the job based on his outstanding performance in spring practice. Apparently, Pasqualoni has come to that conclusion, too, because he officially named Whitmer the starter Thursday, the school's website reports.

He beat out Johnny McEntee, who started the majority of UConn's games during a 5-7 run through the 2011 season, in addition to sophomore Michael Nebrich and Scott McCummings, as well as highly touted freshman Casey Cochran, who is recovering from wrist surgery. (It's not clear if Cochran will be redshirted now that Whitmer is atop the depth chart.)

After a stellar performance in the Spring Game, Pasqualoni had this to say about Whitmer: "Chandler showed he's probably a little bit older and has been in games. Overall, each of them, I thought, made a play here and there. Sometimes it depends on who the receiver and offensive line is in with them. There's no way you can accurately evaluate it all until you go in and grade the film."

The grades are in and Whitmer's the guy.