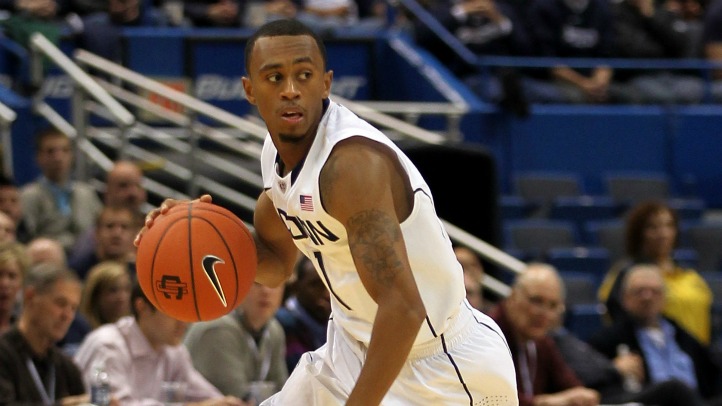 Freshman Ryan Boatright missed the first six games of UConn's season amid concerns about his eligibility. The NCAA investigated the matter, concluded that Boatright missing six games was punishment enough for receiving an improper benefit (allegedly a plane ticket), and the former Mr. Basketball in Illinois was free to get on with his freshman season.

Then 10 games later, Boatright again finds himself on the bench, free to practice and watch games, but barred from playing.

"I can't, nor will I make any comment about it. I don't wanna hurt my program," Jim Calhoun said after the Huskies beat Notre Dame over the weekend, days after the university announced that Boatright was again the target of an NCAA review.
So why has the NCAA again barred Boatright? The Beacon News' Rick Armstrong does some digging:
Boatright was instructed not to comment to the media, and his parents, Tanesha Boatright and Mike McAllister, also chose not to comment. That didn't stop former West Aurora basketball standout Jaeh Thomas, however. Thomas is McAllister's cousin and has advised young Boatright and trained with him.

"We know exactly who it is," Thomas said, identifying the source providing information to the NCAA that led to the review as a former boyfriend of Tanesha Boatright.

"What the NCAA needs to get through their head is, it's her ex-boyfriend, who also happens to be his dad's first cousin. Both families have pushed him out."
Boatright had emerged as a key cog in the Huskies' three-guard offense (along with Shabazz Napier and Jeremy Lamb), although Calhoun admitted that freshman DeAndre Daniels and Roscoe Smith would get more playing time in an effort to strengthen UConn's presence on the boards -- even if that meant sacrificing ball-handlers and outside shooting threats.

UConn can survive without Boatright, but that's not the point. They're better with him and one way or the other, the NCAA needs to conduct a review, make a ruling and let Boatright get on with his career.

"I really missed him a lot," Napier said after the Notre Dame game. "He does a lot for the team. He comes out with that energy boost. Hopefully, we don't have to play without him (Wednesday at home) against Cincinnati."

That'll be up to the NCAA.