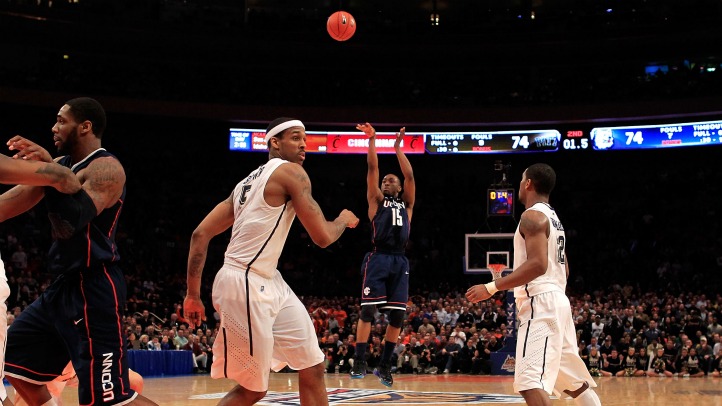 Kemba Walker is gone from Storrs, but memories of his role in a national title win remain.
On Wednesday, we will find out if Sports Illustrated fans picked him to grace the cover.

Details via The SI press release:

For the first time ever, SI is allowing the fans to decide what the cover should be. For the Year in Sports issue, which hits newsstands on December 21st, Sports Illustrated editors have picked the best 15 moments from the 2011 sports year to be voted on via the fans through our Sports Illustrated Facebook page. The moments selected encompass split-second changes of fortune, times of celebration and the actions that spurned emotions in players and fans.
Fans had until Dec. 16 to vote and one of the choices, via Sports Illustrated, was

Kemba Walker's game winning shot against Pittsburgh in the quarterfinals of last years' Big East Championship, sending the Huskies on their way to six straight wins in six nights.
The voting was done through SI's facebook page.

The image which receives the most votes as of December 16, will be revealed on December 21 and appear on the cover of the year-end double issue (December 26th issue) on stands December 21.

Fans had 15 "moments" to choose from. The nominees:

Pack on Top — February 6: Aaron Rodgers throws three TDs to lead Green Bay to a 31-25 victory over Pittsburgh in Super Bowl XLV
Griffin's Dunk— February 19: In the 2011 NBA slam dunk contest, the Clippers' Blake Griffin soars over a Kia sedan to jam home the title
UConn Survives — March 10: Kemba Walker hits a buzzer-beater to defeat Pitt 76-74 in the Big East quarters; the Huskies roll to the NCAA title
Messi and Barça Reign — May 28: Lionel Messi and Barcelona overwhelm Manchester United 3-1 to win the Champions League title and stake a claim as the greatest team ever
Mavs Win — June 12: Dirk Nowitzki and the Mavericks beat LeBron James and the star-studded Heat in Game 6 of the NBA finals for Dallas's first title
Bruins Hoist the Cup — June 15: Behind a historic performance from goalie Tim Thomas, the Bruins defeat Vancouver to win their first Stanley Cup since 1972
McIlroy Majestic — June 19: After his epic Masters meltdown, Rory McIlroy bounces back to win the U.S. Open in historic fashion
Jeter's 3,000th — July 9: On a home run at a packed Yankee Stadium, Derek Jeter becomes the first Yankee to reach 3,000 hits
U.S. Women Stun Brazil — July 10: Abby Wambach scores a 122nd-minute equalizer against Brazil in the Women's World Cup quarterfinals, and the US wins on penalties
Djoker's Wild — September 10: Novak Djokovic fights off two match points to defeat Roger Federer in five sets in the U.S. Open semis on the way to the title
Michigan State's Hail Mary — October 22: After unbeaten Wisconsin had staged a wild fourth-quarter rally, Michigan State stuns the Badgers on a last-second Hail Mary to win 37–31
Cardinals Magic — October 27: David Freese's World Series Game 6 heroics—a ninth-inning, two-out triple and an 11th-inning walkoff homer—save the Cardinals
Eric LeGrand Returns — October 29: A year after his devastating injury, paralyzed former Rutgers player Eric LeGrand leads the Scarlet Knights onto the field against West Virginia
Slater Soars — November 6: Kelly Slater advances at the Rip Curl Pro Search in San Francisco, securing his record 11th world surfing title
Stewart Triumphs — November 20: Tony Stewart outraces Carl Edwards on the final day to win the Sprint Cup, capping NASCAR's greatest title chase ever
Now, we wait and see.