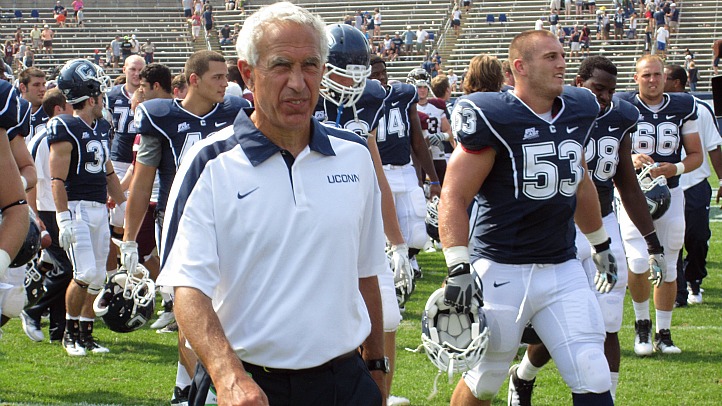 Officially, the football season has been over for more than a month. The reality, however, is that the football season is never over. It's a year-round endeavor for the coaches and almost as much of a commitment for the players, who get a few weeks off in the summer.

Beginning on Friday, the program will host eight recruits. This comes after Paul Pasqualoni had one of the best recruiting efforts in school history (that group will be freshmen for the 2012 season). Among the eight (details via the Hartford Courant's Desmond Conner):
Two offensive linemen who have committed will be there: Tyler Samra, a 6-foot-3, 270-pound guard from Don Bosco (N.J.) Prep and 6-3, 300-pound guard Rennick Bryan from Hillhouse-New Haven. Neil Shortell, a 6-3, 250-pound tight end and junior college transfer from Butler County Community College — the same Kansas school as quarterback Chandler Whitmer — will also be in Storrs.

Joining them are five targets on the UConn wish list, which has about five slots available: Evan Schwan (6-6, 230), a defensive end from Central Dauphin High School in Harrisburg, Pa; Wyatt Vinci (6-2, 240), a linebacker from The Hun School in Princeton, N.J.; Wayne Morgan (5-11, 191), a big-time safety from Erasmus Hall in Brooklyn, N.Y., who has an offer from Alabama; Eric Kinsey (6-3, 240), another outside linebacker from Northwestern in Miami and Richard Levy (6-5, 290), an offensive lineman from Trenton (N.J.) Central.
It'll be a busy weekend for the recruits and by Sunday the program hopes to have commitments from most of them before they head home.

Conner describes some members of the group of eight as "program-changers at best, and difference-makers at least." Which again harkens back to Pasqualoni's recruiting talents. When the university announced that he would replace Randy Edsall, the welcome could best be described as lukewarm. And even though Edsall got UConn to a BCS Bowl in 2010, he's never been known for his ability to recruit.

"When was the last time UConn was involved with a player who had a scholarship offer from the national champion?" Conner writes "In addition to Alabama, Morgan, who also played quarterback, has scholarship offers from Penn State, Michigan, Miami, Maryland and Boston College."

The 2011 season was truly about rebuilding for the future. It's not a lot of fun when you're in the middle of if but you know there is an upside on the horizon. There are plenty of middle-of-the-pack football programs in very good conferences who can't say that.