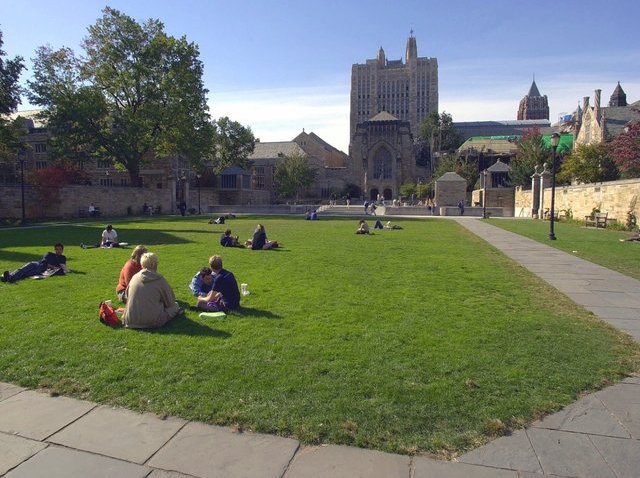 The Yale frat that President George W. Bush and his father, President George H.W. Bush belonged to back in their Ivy League days is in some trouble with the national fraternity leaders after chanting obscenities that angered a women's organization on campus.
National leaders of Delta Kappa Epsilon are coming to Connecticut this weekend to meet with the college men after amateur video appeared online of pledges marching through the New Haven campus on Oct. 13, chanting about women in the context of necrophilia and a specific sexual act
DKE, founded at Yale in 1855, has been under fire since the video surfaced and DKE officials called the episode "deeply offensive."
"The sentiments expressed during the new member activity are deeply offensive, and do not adhere to the standards of morals and behavior that we expect of all DKE members," the national organization said in a statement on its website.
National leaders have also ordered the chapter at Yale to stop pledge activities.
The meeting comes days after the brothers apologized to the Yale Women's Center board.
DKE, which is popular among Yale athletes, has been considered one of Yale's most prestigious fraternities -- both because its roots are there, and because it's the only fraternity chapter at Yale that has never gone inactive.
Back in George W. Bush's day, the fraternity was known as being "notoriously rambunctious," the New York Times reported.
In the 60s, Bush and his frat brothers declared themselves the decorating committee, spotted a wreath in a hotel and took it, the Times reports. Bush was arrested. He later said they had had a few beers.
But, it has been in the headlines for tragedy: in 2003, four members died and five others were injured when their vehicle hit a tractor-trailer on a Connecticut highway as they returned from a DKE pledge event in New York.
This isn't the first fraternity chapter at the Ivy League school to come under fire in recent years.
In 2008, the Zeta Psi chapter apologized after pictures surfaced on Facebook showing 12 pledges posing in front of the women's center with a sign that read, "We Love Yale Sluts."
Yale senior Jordan Forney, the DKE chapter's president, said in a letter in the Yale Daily News that they are sincerely sorry for the Oct. 13 incident and never meant to imply DKE condones rape and sexual harassment.
Yale College Dean Mary Miller said DKE's willingness to accept responsibility for the incident gives the university a chance to talk frankly about recognizing and preventing sexual harassment.

The Yale Daily News posted video of the chanting on YouTube.
Follow us on Twitter @NBCConnecticut, on Facebook, and sign up for breaking news SMS alerts on your phone by texting "CTBREAKING" to 622669.
Copyright AP - Associated Press