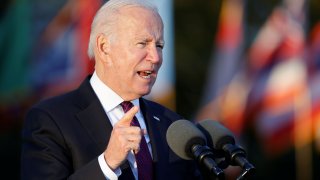 The U.S. will release 50 million barrels of crude from the Strategic Petroleum Reserve, the White House said Tuesday.
The move is a coordinated effort between energy-consuming nations including China and Japan to combat the rapid rise in energy prices.
Prior to Tuesday's announcement the Biden administration repeatedly said that it was looking at the tools at its disposal as prices at the pump hover around a seven-year high.
President Joe Biden said Tuesday that the administration will tap the Strategic Petroleum Reserve as part of a global effort by energy-consuming nations to calm 2021's rapid rise in fuel prices.
The coordinated release between the U.S., India, China, Japan, Republic of Korea and the United Kingdom is the first such move of its kind.
The U.S. will release 50 million barrels from the SPR. Of that total, 32 million barrels will be an exchange over the next several months, while 18 million barrels will be an acceleration of a previously authorized sale.
U.S. oil dipped 1.9% to a session low of $75.30 per barrel following the announcement, before recovering those losses and moving into positive territory. The contract last traded 2.5% higher at $78.67 per barrel. International benchmark Brent crude stood at $82.31 per barrel, for a gain of 3.2%.
Rebecca Babin, a managing director at CIBC Private Wealth US, noted that a release was "well telegraphed" and therefore already priced into the market.
"Positioning across the crude complex has been drastically reduced over the past couple of weeks as traders lock in profits ahead of year end reducing the initial reaction," she added. Crude prices have pulled back after U.S. oil and Brent rose to their highest levels in seven and three years, respectively, in October.
Tuesday's announcement follows the administration saying for months that it was looking into the tools at its disposal as West Texas Intermediate crude futures surged to a seven-year high, above $85.
Prices at the pump have followed the ascent and are hovering around their highest level in seven years. The national average for a gallon of gas stood at $3.409 on Monday, according to AAA, up from $2.11 one year ago. Crude prices make up between 50% and 60% of what consumers pay to fill up their tanks, AAA said.
"The President stands ready to take additional action, if needed, and is prepared to use his full authorities working in coordination with the rest of the world to maintain adequate supply as we exit the pandemic," the White House said in a statement.
As of Nov. 19 the SPR held 604.5 million barrels spread across four sites, according to the Department of Energy. It takes 13 days after a presidential announcement for the oil to hit the market, the department said.
In total the SPR, which was founded in 1975 after the oil embargo, can hold 727 million barrels.
The SPR can be tapped in three ways: a full drawdown to counter a "severe energy interruption," a limited drawdown of up to 30 million barrels, or a drawdown for an exchange or test sale, according to the DOE.
"This is a well-timed move to try and lower oil prices," John Kilduff, partner at Again Capital, said after the announcement. "This added supply should help to bridge the production shortfall ahead of winter, especially if we get confirmation of meaningful supply, as well, from several of the major Asian consuming nations."
In August, the Biden administration called on OPEC and its oil-producing allies to boost output in the face of rising energy prices. But the group decided to maintain its previously agreed-upon schedule of raising production by 400,000 barrels per month.
In April 2020 the group made the unprecedented decision to remove nearly 10 million barrels per day from the market as the pandemic sapped demand for petroleum products. Other producers, including the U.S., also curbed production as oil prices plunged to never-before-seen lows.
Since then, demand has rebounded while producers have been slow to return oil to the market, which has pushed crude to multiyear highs.
"Today marks an official emergence of an 'anti-OPEC+', a group of top oil-consuming countries that are taking the supply-side dynamics into their own hands in the unconventional and unprecedented release of strategic petroleum reserves to create artificial looseness in the oil market and deliver a negative blow to oil prices," said Louise Dickson, senior oil markets analyst at Rystad Energy.
"The supply side support is intended to quell oil prices and keep pandemic GDP recovery on track, especially amid the backdrop of an increasingly inflationary macro environment," she added.
Copyright CNBC