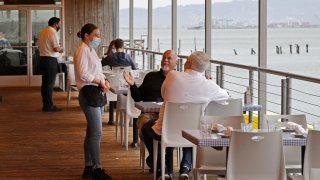 This is CNBC's live blog covering all the latest news on the coronavirus outbreak. This blog will be updated throughout the day as the news breaks. 
The U.S. reported a record number of daily new Covid-19 cases, current hospitalizations and single-day deaths on Thursday, a serious indication that the national virus crisis is only getting worse. The country recorded 217,664 people newly infected with the virus, 100,667 patients sick and hospitalized, and 2,879 Covid-related deaths. The data has been difficult to interpret in the past week due to Thanksgiving-related reporting pauses and backlogs, but the trends are clear: The U.S. is heading in the wrong direction.
Here are the biggest developments Friday:
The following data was compiled by Johns Hopkins University:
Global cases: More than 65.62 million 
Global deaths: At least 1.51 million
U.S. cases: More than 14.24 million
U.S. deaths: At least 277,639
Ford delays Bronco SUV to summer 2021 due to Covid-related supply chain issues
Ford Motor is delaying the launch of its upcoming Bronco SUV to the summer of next year due to coronavirus-related problems in its supply chain, reports CNBC's Michael Wayland.
Customers who had reserved vehicles were expected to begin the ordering process Monday. That has now been delayed until mid-January, Ford spokesman Jiyan Cadiz told CNBC.
The postponement is a troubling sign for Ford as the 2021 Bronco is one of its most highly anticipated vehicles in years. As part of the delay, customers will now have until March 19 to place their order and agree to a final price, Cadiz said. Also, a highly anticipated "Sasquatch package" with manual transmission has been pushed back to the 2022 model year.
Supplier problems have not impacted the Bronco Sport, a vehicle currently arriving in dealerships that's part of Ford's new "Bronco family" of vehicles.
—Melodie Warner 
NJ Gov. Murphy blasts NY Young Republican Club for hosting maskless gala in Jersey City
The New York Young Republican club hosted a large indoor gala in Jersey City, NJ, Thursday night with almost no mask-wearing or social distancing. New Jersey Gov. Phil Murphy blasted the group on Twitter, saying, "It is beyond the pale that anyone would willingly endanger people in another state."
New Jersey allows indoor gatherings of up to 150 people for religious and political activities protected by the First Amendment but requires attendees at indoor events to wear face coverings and stay six feet part. Photos and videos from the event posted on social media showed that gala attendees did not follow state guidelines for mask-wearing or social distancing.
Gov. Murphy said, "Jersey City law enforcement is investigating this matter." The Jersey City Police Department did not respond to requests for comment.
The event was first slated to take place in Manhattan, drawing criticism from New York Gov. Andrew Cuomo and New York City councilmembers.
—Hannah Miao
Biden says $1,200 stimulus checks could be 'still in play' in Covid relief talks
President-elect Joe Biden said another round of coronavirus stimulus checks for U.S. families "may be still in play."
"I think it would be better if they had the $1,200 [payments to families]," Biden said when asked at a press conference to respond to criticism about a new Covid relief plan revealed this week as a starting point for the latest round of negotiations on Capitol Hill.
Biden added: "And I understand that may be still in play."
House Speaker Nancy Pelosi, D-Calif., and Senate Minority Leader Chuck Schumer, D-N.Y., have backed a bipartisan $908 billion relief plan as a basis for talks with Senate Majority Leader Mitch McConnell, R-Ky. The proposal does not include a second $1,200 direct payment to most Americans.
Biden has endorsed the plan as a "good start," but he has promised to push for more aid when his administration takes charge. At the press conference, Biden would not say if he has spoken to McConnell.
On Friday, Pelosi told reporters "there is momentum" toward lawmakers striking a deal. 
—Kevin Breuninger and Jacob Pramuk
State Department criticized for plans to host large indoor holiday parties amid Covid surge
The U.S. State Department drew criticism from the American Foreign Service Association surrounding large indoor holiday events scheduled at the agency. The Centers for Disease Control and Prevention cautions against indoor gatherings, as they have a greater risk for Covid-19 spread than outdoor events.
Secretary of State Mike Pompeo and other State Department officials have planned several indoor holiday parties, including one with at least 900 guests invited, The Washington Post reported. A week prior, State Department leaders told employees to avoid hosting in person gatherings and opt for virtual events.
"We urge the Department to reverse course and model responsible behavior in accordance with its own guidelines," AFSA said.
A spokesperson for the State Department said the events will follow health precautions including requiring masks, social distancing and temperature checks. The spokesperson did not provide guidance on how the agency would enforce mask-wearing while food and beverages are provided at the events.
The White House also plans to host at least 20 indoor holiday parties, according to NBC News. Several events at the White House, including an election night celebration and President Donald Trump's nomination of Justice Amy Coney Barrett, have led to dozens of coronavirus cases.
—Hannah Miao
Stay-at-home order issued for San Francisco Bay Area
A stay-at-home order has been issued by heath officials in the San Francisco Bay Area, ahead of Gov. Gavin Newsom's statewide mandate. The six jurisdictions will all implement the order starting between Dec. 6 and Dec. 8 and lasting until Jan. 4.
Newsom on Thursday announced a regional, tier system though which areas would enter strict stay-at-home measures once ICU bed availability fell below 15%. San Francisco Mayor London Breed and the neighboring counties said Friday they wouldn't wait to hit that capacity threshold.
"If we wait, we are just delaying the inevitable," Breed said at a news conference. "If we wait one or two more weeks to have these restrictions placed on us, it will just mean our numbers will be higher and harder to bring down."
Under the order, outdoor dining, hair and nail salons, playgrounds, bars, theaters, museums, zoos will all close. Retail will remain open but will be capped at 20% capacity, and restaurants are permitted to offer takeout and delivery only.
—Sara Salinas
CDC advisor says kids could get vaccine in second half of 2021
Children and young teens could get a Covid-19 vaccine in the second half of next year, according to a CDC advisor.
"I don't think we're going to see it in the first half of this coming year," said Dr. Jose Romero, the chair of the Advisory Committee for Immunization Practices, an outside group of medical experts that advises the CDC. "We need to see how the studies progress. We need to see that data in order to make sure that it is safe and effective in children."
Vaccines can not be distributed to children until it's been rigorously tested in them in clinical trials.
Pfizer is already testing its vaccine on kids 12 and older. Moderna is preparing to test at least 3,000 children as young as 12, according to a posting on clinicaltrials.gov. Moderna CEO Stephane Bancel told CNBC on Monday that testing on very young children wouldn't begin until sometime next year.
"For younger children, you have to go down in age very slowly and you have to start at a lower dose to make sure it is safe," he said during an interview on "Squawk Box."

–Berkeley Lovelace Jr.
Congress moves closer to a Covid stimulus deal as job growth falters
Congress is trying to scrape together a coronavirus stimulus plan and government funding bill in the next week as the job market weakens and financial lifelines are set to expire.
House Speaker Nancy Pelosi said "there is momentum" toward a relief agreement. She spoke to Senate Majority Leader Mitch McConnell for the first time in at least a month, and both leaders want to attach aid provisions to a funding bill Congress needs to pass by Dec. 11.
At the same time, Pelosi, Senate Minority Leader Chuck Schumer and President-elect Joe Biden all said a weaker-than-expected November jobs report increases the urgency to send more help to Americans.
Congressional leaders still have multiple issues to resolve in order to pass both an aid bill and a funding plan. Relief sticking points include unemployment insurance, state and local government aid and liability protections for businesses.
About 12 million people will lose jobless benefits at the end of the month.
—Jacob Pramuk
Revised CDC data shows higher relative toll on Black, Hispanic people
The Centers for Disease Control and Prevention quietly revised its estimates for the disproportionately deadly toll that Covid-19 is taking on communities of color, now reflecting a much higher burden than previously acknowledged.
After adjusting for age, which is a standard means of measuring disease impact, Hispanic and Black Americans are shown to die at a rate of almost three times that of White Americans, the CDC now says. The agency previously said Hispanic and Black Americans were dying at a rate of about one and two times higher than Caucasians, respectively.
Dr. Leana Wen, former Baltimore health commissioner, said it's important that people understand it's not that the virus is discriminating against communities of color.
"I hope that people will see that it's not the virus that's doing the discriminating," she said in a phone interview. "It's our systems."
—Will Feuer
WHO warns reinfections may occur as data suggests antibodies wane
Recent data suggests people who were once infected with the coronavirus could be infected again as their antibody response wanes, Dr. Mike Ryan, executive director of the World Health Organization's health emergencies program, said during a press briefing.
According to the U.S. Centers for Disease Control and Prevention, some Covid-19 reinfections are expected based on the agency's prior experience with similar viruses. In late August, researchers in Hong Kong reported what appeared to be the first confirmed case of Covid reinfection. While rare, the WHO said at the time that reinfection could be possible.
Maria Van Kerkhove, head of the WHO's emerging diseases and zoonosis unit, said that researchers are still trying to determine how long an antibody response lasts after someone is naturally infected with the virus.
"In some people, it may wane after a few months but we do get a good indication that natural infection immune response is lasting for some months," Van Kerkhove said.
—Noah Higgins-Dunn
Biden says 'dire' jobs report shows economy stalling amid Covid crisis
President-elect Joe Biden said Friday's underwhelming jobs report foreshadows a "dark winter" that demands "urgent action" from President Donald Trump and Congress.
Biden's statement on the latest report on the U.S. labor market came as Covid spreads out of control across the U.S. and Americans face benefit cuts if Congress does not pass stimulus legislation.
"This is a grim jobs report. It shows an economy that is stalling," Biden said.
Jobs increased by 245,000 in November, well below the 440,000 expected by economists and a sharp drop from the 610,000 reported in October.
The statement noted that the "dire jobs report" only offered a snapshot of the situation in November, "before the surge in COVID cases and deaths in December as we head into a dark winter."
Still, Biden said he was "encouraged" by progress being made on Capitol Hill, where congressional leaders are signaling "momentum" in the protracted negotiations over an additional pandemic relief bill.
—Kevin Breuninger
Hospitality workers face a tough winter as job growth comes to a halt
Friday's jobs report showed a weakening U.S. labor market, and for the hard-hit hospitality industry, job growth was relatively flat. The sector, which faced the steepest losses in the spring, remains down by 3.4 million jobs compared to February levels.
Wendy Edelberg, an economist with the Brookings Institution, said that without extensions to government aid that expires at the end of the year, there's a good chance consumer spending will drop and more small businesses like restaurants and bars will close, which could lead to fewer hospitality jobs being available.
Real-time data from restaurant reservations service OpenTable show bookings at their lowest levels since August, and job search site ZipRecruiter has seen a significant decline in restaurant and hotel job postings in recent days. That could indicate that more hospitality job losses are on the horizon in the winter months ahead as the coronavirus outbreak intensifies.
—Nate Rattner
Eateries and bars lost jobs for the first time since April
The restaurant industry lost 17,400 jobs in November, marking the first month since April that food and drinking places have seen employment shrink.
States and municipalities began placing restrictions on eateries and bars once again in October and November as the number of new Covid-19 cases surged. The overall unemployment rate for the industry was 13.8% in November.
In addition to job losses, November also saw the restaurant industry's same-store sales fall to 10.3%, its biggest drop since August, according to data from Black Box Intelligence.
—Amelia Lucas
Former NYSE president details 'nasty' battle with Covid
Former New York Stock Exchange President Tom Farley told CNBC he had a "nasty case" of Covid-19 in March during the early days of the coronavirus pandemic.
"I had a 102 to 103.5 [degree] fever for 15 days straight, and then I couldn't get out of bed for another week. I lost about 25 pounds," Farley said on "Squawk Box," adding that he "cracked a tooth from chattering."
His illness came as his blank-check company was in the process of finalizing an acquisition with Global Blue, a Swiss fintech firm.
"My brain wasn't firing. I was physically exhausted. It was not a good period in my life," said Farley, whose second special purpose acquisition company began trading on the NYSE this week. "On that 23rd day, I woke up and, yes, I was weak but I felt better and I felt hopeful and optimistic, and I started getting into a workout routine."
Farley also acknowledged he was fortunate to have recovered from the disease. "I almost feel guilty talking about this, given how many people have died," he said.
—Kevin Stankiewicz
CDC's new quarantine guidance catches criticism
The Centers for Disease Control and Prevention on Wednesday unveiled new quarantine guidance that allows some people to restrict their contact with others for less than the recommended 14-day period under certain circumstances.
The new advice was created to try to boost compliance with the quarantine guidelines, but some public health experts say the nation's premier health agency was trying to solve the wrong problem. Instead of focusing on why people aren't adhering to the guidelines, the agency focused on the rules themselves, which undermined the risk of exiting quarantine before 14 days, epidemiologists said.
"I think the recommendations are based on an idea that there are people who see 14 [days] as the rule and say, 'I can't do 14,' so I'm not going to do any at all, and [the CDC] wants those people to know that seven [days] would be better than nothing," Ellie Murray, an epidemiologist at Boston University, said. "But I don't think that's how the message is getting out."
—Will Feuer
SEC charges Cheesecake Factory with misleading investors about Covid impact
The Cheesecake Factory is the first company to be charged by the Securities and Exchange Commission for misleading investors about the financial impacts of the coronavirus pandemic.
According to the regulator, the restaurant company did not share enough information about its cash burn in its March 23 and April 3 filings, although internal documents showed that it was disclosing those details to potential private equity investors or lenders. The SEC also said that the company didn't disclose that it wouldn't pay April rent in its March 23 filing, although it had already told landlords of that plan.
The Cheesecake Factory settled with the SEC without admitting wrongdoing and will pay a $125,000 fine.
—Amelia Lucas
Petco files to go public as consumers spending more on pets
Petco Health and Wellness has filed for an initial public offering as the coronavirus pandemic drives consumers to adopt new pets, fueling growth for the pet care industry.
Petco is projecting a $4 billion increase in spending for pets this year and a 4% jump in adoptions. In the first ten months of the year, the retailer saw same-store sales rise by 9.6%.
Rival Chewy, which went public more than a year ago, has seen its stock price rise more than 150% so far this year in the wake of the trend.
—Amelia Lucas
Boeing further trims 787 production rate as international travel suffers
Boeing is lowering its already reduced production target for its 787 Dreamliners to five a month next year from a goal of six as international travel continues to suffer, says CFO Greg Smith at an industry conference. The company was producing 10 a month.
The widebody aircraft are used for long-haul international routes, demand for which have suffered more than shorter, domestic flights, the result of the virus and a host of travel restrictions aimed at stopping it from spreading it.
Boeing in October said it would consolidate Dreamliner production in South Carolina.
Smith said the "single biggest driver" of cash flow recovery will be deliveries of the 737 Max. The Federal Aviation Administration in mid-November lifted a 20-month ban on the planes following two fatal crashes in 2018 and 2019, clearing the way for deliveries to resume.
—Leslie Josephs
Jobs growth falls off sharply in November
Nonfarm payrolls rose by just 245,000 in November, well below the 440,000 jobs Wall Street economists expected. The shortfall comes as rising coronavirus cases coincide with a significant slowdown in hiring, CNBC's Jeff Cox reports.
A monthly jobs gain of 245,000 would be considered strong under normal circumstances, but the Covid-19 pandemic has left millions of Americans unemployed amid widespread shutdowns.
The national unemployment rate now stands at 6.7%, right in line with economists' expectations and down from 6.9% in October.
—Sara Salinas
Fauci says he accepted President-elect Biden's offer to stay on as chief medical advisor
Dr. Anthony Fauci, director of the National Institute of Allergy and Infectious Diseases, said he's accepted President-elect Joe Biden's offer to stay on at the White House as advisor on the coronavirus pandemic.
Biden said in an interview with CNN's Jake Tapper on Thursday that he and his Covid-19 advisors met with Fauci that afternoon. The president-elect said he asked Fauci to continue "in the exact same role he's had for the past several presidents" and to remain as a medical advisor to the incoming administration.
"Absolutely, I said yes right on the spot," Fauci told NBC's "TODAY."
Fauci previously said he plans to remain in his post at NIAID, a position he's held for more than 30 years, for the foreseeable future even if a new administration were to move into the White House.
—Noah Higgins-Dunn
Biden to enact a mask mandate on federal property and interstate transportation
President-elect Joe Biden said Thursday that as soon as he is sworn in, he plans to require masks on all federal property and on interstate transportation.
"Where the federal government has authority, I'm going to issue a standing order that, in federal buildings, you have to be masked, and, in interstate transportation, you must be masked on airplanes and buses, etc.," Biden told CNN in a wide-ranging interview.

"The first day I'm inaugurated, I'm going to ask the public for 100 days to mask," Biden said. "Just 100 days to mask. Not forever, 100 days."
"I think we'll see a significant reduction" in Covid transmission, he said.
This approach is a stark departure from that of President Donald Trump, who has largely refused to wear a mask himself and questioned their efficacy, turning a public health measure into a political litmus test.
—Christina Wilkie
Uber asks U.S. CDC to consider ride-hail drivers essential for Covid vaccine distribution
Uber petitioned the U.S. Centers for Disease Control and Prevention on Thursday to designate its ride-hail and delivery drivers as non-health essential workers, in the hope they would be entitled to have earlier access to the Covid-19 vaccine when it becomes available, Reuters reports.
In a letter to the CDC's Advisory Committee on Immunization Practices, Uber explained that its drivers provided critical transportation for essential workers and allowed others to stay home and order food, according to the wire service.
"Early access to a vaccine would help drivers and delivery people continue to play their essential role while also reducing the risk that they may inadvertently contract, or possibly transmit, the virus," Uber's head of federal affairs, Danielle Burr, said in the letter.
—Terri Cullen
Read CNBC's previous live coverage here:
Coronavirus updates: Global death toll climbs to 1.5 million; U.S. crosses 14 million infections
Copyright CNBCs - CNBC