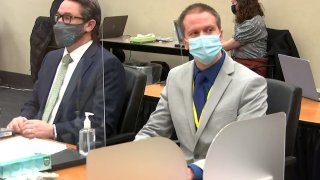 Prosecutors and the defense make their closing arguments to the jury starting Monday in the murder trial of Derek Chauvin, the white former police officer accused of killing George Floyd last May.
Arguments come amid a mounting uproar in Minneapolis and elsewhere over police violence against Black men.
Jurors will be allowed to deliberate for as long as it takes them to reach a verdict.
Prosecutors and the defense made their closing arguments to the jury on Monday in the murder trial of Derek Chauvin, the white former police officer accused of killing George Floyd last May.
The anonymous multiracial jury will now be allowed to deliberate for as long as it takes to reach a verdict, which must be unanimous.
Arguments came amid a mounting uproar in Minneapolis and elsewhere over police violence against Black men.
"You can believe your eyes," prosecutor Jerry Blackwell told jurors. A video of Chauvin with his knee of Floyd's neck formed a central aspect of the prosecution's case.
"Why is it necessary to continue applying deadly restraint to a man who is defenseless, who is handcuffed, who is not resisting, who is not breathing, who doesn't have a pulse?" Blackwell added.
"It was like he was in a vice. It was like he was being squeezed in a vice," prosecutor Steve Schleicher said..
Schleicher pushed back on arguments, made by the defense, that Floyd died as a result of his underlying health conditions and drug use.
"You are not required to believe this amazing coincidence that after this nine minute 29 second constraint" that Floyd "chose that moment to die of heart disease," Schleicher said.
Eric Nelson, Chauvin's attorney, began his arguments seeking to get jurors to think broadly about whether Chauvin was acting within the bounds of the law.
"The standard is not what should the officer have done in these circumstances. It's not what could the officer have done differently," Nelson said.
Nelson said that the standard was what a reasonable officer would do given all of the circumstances facing him or her.
"All of the evidence shows that Mr. Chauvin thought he was following his training," Nelson said. "There is absolutely no evidence that officer Chauvin, intentionally, purposefully, applied unlawful force."
The case is the most high-profile legal fight involving a white officer who has been accused of killing a Black man to come in recent years.
Immediately after arguments concluded, Nelson asked Judge Peter Cahill to grant a mistrial, citing comments made by Rep. Maxine Waters, D-Calif. Waters on Saturday urged protesters to "get more confrontational" if the jury reaches a verdict of not guilty.
Cahill rejected the motion for a mistrial but said, "I'll give you that Congresswoman Waters may have given you something on appeal."
"I wish elected officials would stop talking about this case, especially in a manner that is disrespectful to the rule of law, the judicial branch and our function," Cahill said.
White House press secretary Jen Psaki was pressed about the case during a press conference on Monday afternoon. Psaki declined to say whether President Joe Biden would personally be disappointed if Chauvin is found not guilty.
The closing arguments put forward two very different versions of what happened on May 25, the day that Floyd died after Chauvin and other Minneapolis police officers attempted to arrest him on suspicion of passing a counterfeit bill.
Prosecutors and their expert witnesses have told the jury that Chauvin killed Floyd by cutting off his airway with the police officer's knee while the Black suspect was handcuffed and pinned to the ground for about 9 minutes.
During the trial, they made extensive use of video footage recorded by bystanders showing Floyd pleading for his life and telling officers he was unable to breathe.
Prosecutors also called Dr. Martin Tobin, a pulmonologist and expert in the science of breathing, who testified that Floyd died from lack of oxygen.
"A healthy person subjected to what Mr. Floyd was subjected to would have died," Tobin told jurors.
Schleicher relied heavily on Tobin's earlier testimony during his closing arguments.
"It was very clear that George Floyd died as a result of a low level of oxygen," he said.
The prosecution was led by Matthew Frank, an attorney in the Minnesota attorney general's office. Two other prosecutors, Schleicher and Blackwell, shared the closing arguments.
The defense, led by Nelson, argued that Floyd died as a result of high levels of the drug fentanyl that he had ingested prior to his arrest, in addition to his underlying medical problems. An autopsy also found methamphetamine in Floyd's system.
Nelson also attempted to paint the crowd of onlookers who were at the scene on May 25 as posing a threat to the arresting officers and making their job more difficult. He has argued that Chauvin's knee may not have been on Floyd's neck, but instead placed on his back.
Nelson also highlighted apparent discrepancies between the prosecutors' arguments and the findings of Dr. Andrew Baker, the Hennepin County medical examiner, who conducted Floyd's autopsy.
Baker ruled that Floyd's death was a homicide but did not find that the cause of his death was asphyxia, or lack of oxygen, as prosecutors claimed.
"The law enforcement subdual, restraint and the neck compression was just more than Mr. Floyd could take by virtue of that, those heart conditions," Baker said.
Dr. David Fowler, a former chief medical examiner for Maryland called by the defense, testified that carbon monoxide exhaust from a nearby vehicle may also have contributed to his death, in addition to his enlarged heart, high blood pressure and drug use.
Chauvin has been charged with second-degree murder, third-degree murder and second-degree manslaughter. Those charges each require prosecutors to prove that Chauvin was a "substantial causal factor" in Floyd's death.
Second-degree murder carries a maximum sentence of 40 years in prison. Third-degree murder has a maximum of 25 years, and the manslaughter charge has a maximum of 10 years. Actual sentences often fall short of statutory maximums.
Jurors are instructed that if they have any reasonable doubt about Chauvin's guilt, they must vote not guilty. A unanimous jury is required to convict on any of the counts.
The jury has 14 people, including two alternates who may be dismissed before deliberations. The diverse group is made up of two multiracial women, three Black men, a Black woman, six white women, and two white men.
The trial comes as tensions are running high. On April 11, as arguments were underway, police officer Kimberly Potter fatally shot Daunte Wright, a 20-year-old Black man, during a traffic stop in nearby Brooklyn Center, sparking protests.
Potter resigned and claimed she thought she was using a Taser. She has been charged with second-degree manslaughter.
-- The Associated Press contributed to this report
Subscribe to CNBC Pro for the TV livestream, deep insights and analysis on how to invest.
Copyright CNBCs - CNBC