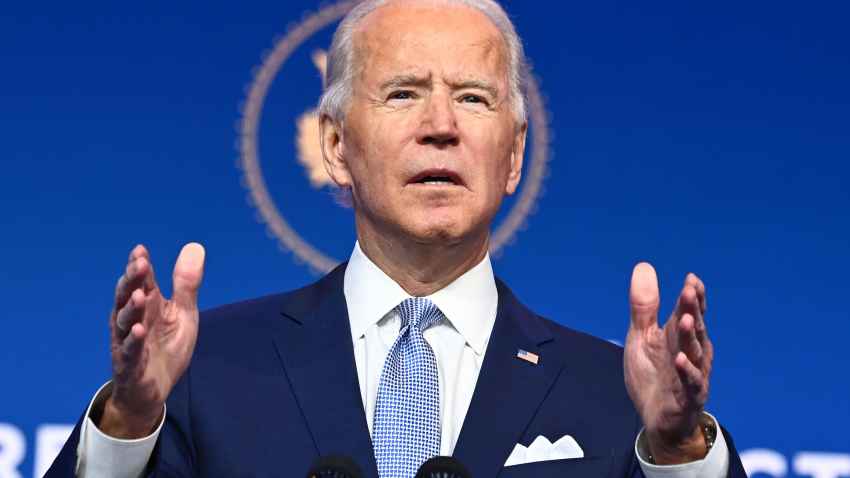 U.S. stocks rallied on Tuesday with the Dow Jones Industrial Average hitting the never-before-seen 30,000 level.
This came after the Trump administration began the transition process for President-elect Joe Biden. The move higher also comes after Biden named Cabinet picks, including a nomination for former Federal Reserve Chair Janet Yellen to be Treasury secretary.
Many investors view Yellen as a market-friendly pick, considering that she oversaw the U.S. central bank during a long economic expansion with historically low interest rates. She's also likely to push for further fiscal stimulus.
Seven market watchers weigh in.
Josh Brown, co-founder of Ritholtz Wealth Management, stresses the importance of playing the long game.
"This is why people who are not only invested for the long term but continually adding to their investments via 401(k)s or automated advisors, etc. have done themselves a huge favor. And people on the other side of that, on the other side of that debate, who think their job is to wake up every morning and make in-or-out decisions, have not done themselves a favor. And look, I'm 43 years old, I'm pretty sure I'm going to see Dow 100,000 one day. As outlandish as that sounds, that's just a few decades compounding at an average annual rate of 7%, which is what it's done since the beginning of time. So you have to orient your mentality in order to get the days like today. If your mentality is oriented toward trying to outsmart everybody all the time, you don't get to participate when the market does what it's just done."
Stephanie Link, chief investment strategist at Hightower, talks about the drivers behind the rally.
"It's been a very long journey, right? But we have to thank the Fed, we have to thank the monetary policies that they put in place and all the QE that they've been doing. We have to thank the administration and Congress for getting a fiscal package, several fiscal packages. ... So I still think that a lot of this rally is because we have had such massive, massive support, and we have extremely low interest rates, but the market is rallying because guess what? There's actually a lot of good news out there. It's not perfect, but not only is the vaccine and the progress that it's making good news obviously from a health point of view but it also means that we're probably gonna see better growth in 2021, in terms of GDP. We're probably going to see better profits in 2021 than people expected. We could grow north of 30% in earnings, and I think that's what the market is starting to price in."
Jim Lebenthal, chief equity strategist at Cerity Partners, says to avoid taking profits after this run.
"Small caps have had the best month ever. ... Has that brought forward those gains? I have to give a very strong answer of no, because remember that small caps were in a bear market since the summer of 2018. They just broke out of that two weeks ago. And the point that I'm driving at is we talked about small caps yesterday, we talked about specific stocks. Maybe somebody is listening to the litany of good news that you just put out there and saying 'Hey, this is as good as it gets, I'm going to take profits.' I don't think that's the right move. I don't think trying to time these markets is the right move. I think you've got to be prepared for a multiyear game."
Ed Yardeni, president of Yardeni Research, grows more concerned about a melt-up.
"I did turn bullish on March 25, but I didn't expect that we'd be retesting the Feb. 19 high by April, so this market has run ahead of my bullishness and it's continuing to do so. I'm now looking for [S&P 500] 4,000 by the end of next year, but the way things are going, it could happen sooner. My main concern is a melt-up. I was listening to all you folks, and it's all very exciting stuff. But the problem now is we're all getting excited about the potential, and I've been talking about the 'roaring '20s' for a while, and I believe in that story. But I am concerned we may be getting ahead of the fundamentals here, and that's largely because interest rates are near zero. And now with Janet Yellen in the Treasury, she's a big proponent of running the economy hot. Let the stimulus work for a while, get everybody employed and don't worry too much about raising interest rates, and certainly don't worry about inflation, that seems to be the view now at the Treasury and at the Fed."
Jim Cramer, host of CNBC's "Mad Money," is watching the speculative part of the market.
"I think that there's two parts of the market. There's the cyclical market, which is doing very, very well. And then there's the speculative part of the market, which is insane. I mean, we've got a lot of stocks that everyone must think are the next Teslas, and you see those go up so much that you begin to say, 'Well, wait a second, can that continue forever?' And those are the stocks that I'm really watching because they are the so-called Robinhood stocks. There's a lot of other people who buy these now, but everything they buy goes higher, and so that's what I'm focused on is can that continue, because that speculation is usually met with some sort of big sell-off. Hasn't happened yet, though."
Paul Hickey, co-founder at Bespoke Investment Group, says the big market movers for further upside are still unknown.
"We're on the same level we were over two months ago in the S&P 500. So we've really been consolidating what was a really massive rally off spring lows. And in the last week or so we've been consolidating what was really a strong rally in the first half of the month, so it's like, you know, sprinting a four-minute mile and then just, you're going to be tired, you're going to have to want to catch your breath and regroup and build up a head of steam. So I think, you know, there are some concerns with going into the winter with rising Covid cases. But overall, we're still positive on the market. We think there's more positives than negatives. And this whole idea of what's the upside catalyst going to be to get us to higher levels come year-end, nobody ever knows what the outside catalyst is. If you'd asked someone on Oct. 30 were we going to have an 11% month in November no one would have said that, so it's always easy in retrospect to find what the outside catalyst was, but, you know, looking ahead, no one ever knows what the outside catalyst is going to be."
Mona Mahajan, senior U.S. investment strategist at Allianz Global Investors, sees a two-speed market.
"Cyclicals have had a really nice run since really the beginning of this quarter. And if you look at the S&P broadly it's up 6%, but the cyclical parts of the market, like energy, like financials, like industrials, up 13% to 19%-plus. So, clearly the advent of the vaccines, perhaps even potential Biden victory combined with a split Congress, those are some of the ingredients in place for the start of a value rotation. But when we look more broadly, perhaps over a 10-year period, growth versus value, we could make a case that we're still in just early innings of this cyclical rotation. I think really what markets are looking forward to are perhaps the second half of next year when consumer behavior actually returns more toward pre-pandemic levels. According to leaders in Operation Warp Speed, we will be getting 20 million vaccine doses in December, 30 million thereafter every month, and perhaps you're at a better point in the next year, by mid next year. And so I do think if growth continues to accelerate next year, not only in the U.S. but globally, if rates continue to remain low, if you do get some stimulus into the system, that's a pretty good backdrop for risk assets and perhaps a continuation of the cyclical rally."
Copyright CNBCs - CNBC