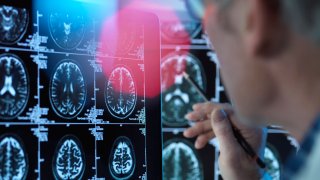 The FDA will make a decision on full approval of Eisai's early Alzheimer's disease treatment Leqembi in July.
Leqembi slowed disease progression by 27% in clinical trials, but it carries risks of brain swelling and bleeding.
Medicare coverage of the expensive treatment is virtually nonexistent right now.
The program for seniors has agreed to provide broader coverage on the same day Leqembi receives full FDA approval.
The Food and Drug Administration will make a decision on whether to fully approve Eisai and Biogen's Alzheimer's treatment Leqembi by July 6, the companies announced Monday.
Leqembi is an antibody treatment that targets brain plaque associated with the mind-robbing disease. It is administered intravenously twice a month and slowed the progression of early Alzheimer's disease by 27% in clinical trials. However, it also carries risks of brain swelling and bleeding and costs $26,500 a year.
Although the FDA approved Leqembi on an expedited basis in January, access to the treatment is virtually nonexistent right now. Medicare will only cover classes of drugs like Leqembi that receive expedited approval for people participating in clinical trials.
The Centers for Medicare and Medicaid Services said in January that it would provide broader coverage of Leqembi as soon as it receives full FDA approval.
Though coverage would be broader, the number of people who could access the drug will still likely be limited. Medicare has agreed to cover drugs like Leqembi once they receive full approval, but only for people who participate in research studies, called registries, so Medicare can collect real-world data.
It will take time to set up those studies; health-care providers and research institutes have to be recruited, and patients would also have to agree to participate. The health-care system would also need more capacity to administer the diagnostic tests and infusions needed to administer the drug.
Join CNBC's Healthy Returns on March 29, where we'll convene a virtual gathering of CEOs, scientists, investors and innovators in the health-care space to reflect on the progress made today to reinvent the future of medicine. Plus, we'll have an exclusive rundown of the best investment opportunities in biopharma, health-tech and managed care. Learn more and register today: http://bit.ly/3DUNbRo
The Alzheimer's Association called on CMS in December to provide unrestricted coverage of treatments like Leqembi. Members of Congress have also asked Medicare to provide broader coverage, arguing that the restrictions put people who live in rural communities at a disadvantage because providers that participate in such studies are usually in bigger cities.
CMS rejected the Alzheimer's Associations request to provide unrestricted coverage last month, but the agency reiterated that it will cover Leqembi more broadly on the same day it receives full FDA approval.
 "As defined in statute, to provide coverage nationally, CMS is required to examine whether a medication is reasonable and necessary," the agency said in its statement. "This standard differs from the criteria used by the FDA to assess whether medications are safe and effective."
The Alzheimer's Association said it was "appalled" by CMS' decision. The group estimates that 2,000 people ages 65 and older progress from mild dementia to a more advanced state of the disease every day, making them ineligible for Leqembi.
"CMS' role is to provide health care coverage. Their role is not to stand between a patient and a doctor when deciding what FDA-approved treatments are appropriate. Their role is not to single out people living with Alzheimer's and decide that their lives, their independence and their memories are not necessary," said the association's president, Joanne Pike.
Eisai's U.S. CEO, Ivan Cheung, told CNBC last month that it's possible Medicare could agree to provide coverage with no restrictions after Leqembi receives full approval if CMS determines there's strong evidence to support the treatment.
"With a high level of evidence ... the restrictions should be very limited, or maybe even no restrictions and that is Eisai's position," Cheung said. "We believe Medicare beneficiaries should have unimpeded access, broad and simple access to Leqembi because the data fulfill those criteria," Cheung said.
Copyright CNBCs - CNBC