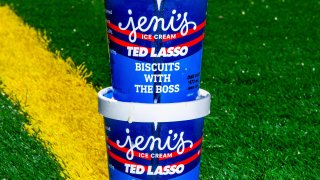 "Ted Lasso" has won multiple Emmy awards and Golden Globes for its first two seasons, but this month it's getting something new: an official ice cream flavor.
The hit Apple TV+ series has partnered with Ohio-based Jeni's Splendid Ice Creams to put out a new limited edition flavor just in time for the premiere of the show's third season.
The flavor is called "Biscuits with the Boss," and is based on the cookies that the show's main character bakes each morning for the owner of AFC Richmond.
It's a salty sweet cream base with crumbled shortbread cookies mixed in, with a flavor that Jeni's says "transports you to the sidelines of a UK football match without leaving the couch."
The collaboration has been in the works for about a year, representatives for Jeni's tell CNBC Make It, and it will be available at all Jeni's Scoop Shops. Customers who don't live near a scoop shop will be able to order the flavor off the Jeni's website for $12 per pint.
I tried out the new ice cream for CNBC Make It ahead of its release.
My short review? It's definitely buttery. So buttery, in fact, that if you're not a fan of butter I'd probably recommend that you steer clear of this flavor.
For me, however, that wasn't a problem in the slightest. As a kid, I would've been happy eating a tub of Country Crock with a spoon, so Biscuits with the Boss fell right into my sweet spot.
The shortbread crumbles added nice texture to the ice cream, too.
I'm not sure that it would be my first choice the next time I'm at a Jeni's scoop shop, but that's more a testament to the strength of the brand's over flavors than a ding against this one.
As far as ice cream flavors based on beloved television sitcoms go, "Ted Lasso" has set a new bar.
Get CNBC's free Warren Buffett Guide to Investing, which distills the billionaire's No. 1 best piece of advice for regular investors, do's and don'ts, and three key investing principles into a clear and simple guidebook.
Sign up now: Get smarter about your money and career with our weekly newsletter
Copyright CNBCs - CNBC