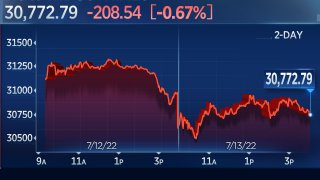 Stocks slipped on Wednesday after June inflation data hit its highest level since 1981, adding to growing fears that the Federal Reserve will get more aggressive in its fight to tame rising prices.
The Dow Jones Industrial Average dropped 208.54 points, or 0.67%, to 30,772.79, while the S&P 500 dipped 0.45% to 3,801.78. The Nasdaq Composite slipped 0.15% to close at 11,247.58.
"There's no spinning this, other than the Fed has to get more aggressive near term and crush demand. That cements a recession now," said Liz Ann Sonders of Charles Schwab. "I think a recession is an inevitability."
The consumer price index rose 9.1% on a year-over-year basis in June, coming in even higher than May's 8.6% reading, which was the biggest increase since 1981. Economists surveyed by Dow Jones had anticipated an 8.8% print.
Core CPI, which excludes food and energy prices, came in at 5.9% and above the 5.7% estimate.
Stocks gyrated throughout the day as investors digested the latest inflation data, with the Dow down as much as 466 points. At one point, the Nasdaq and S&P fell more than 2% and 1.5%, respectively.
Consumer discretionary rose nearly 0.9% boosted by gains from Domino's Pizza, Bath & Body Works and Tesla, while Boeing, Walgreens and UnitedHealth slid 2% each, dragging the Dow into negative territory.
Battered tech shares Amazon, Netflix and Tesla staged a comeback on Wednesday, rising more than 1% each despite mounting growth concerns. The move briefly brought the tech-heavy Nasdaq into positive territory. Twitter's stock rose nearly 8% as the social media company sued Elon Musk.
Along with the inflation report, investors continued to monitor second-quarter earnings for clues into the health of U.S. companies. Delta Air Lines shares dropped about 4.5% after the company posted mixed results.
Amid the news, United and American Airlines dipped about 1% and 3%, respectively. Struggling cruise stocks Royal Caribbean dropped 2.1% and Carnival fell more than 1%.
Peak inflation or bigger Fed rate hikes?
June's hot inflation reading left traders questioning whether the central bank will hike another 75 basis points during this month's meeting and raised expectations of an even larger increase to tame surging prices.
Last month, the Fed raised its benchmark interest rate three-quarters of a percentage point to a range of 1.5%-1.75% in its most aggressive hike since 1994.
"The core is chugging along at a frightening clip," said Michael Schumacher at Wells Fargo.
Fed funds futures are now pricing in an 81 basis-point rate hike for July. That would indicate that some in the market expect a rate hike of more than 75 basis points, and 100 could happen, he added.
"With core running this strong, the Fed can't ignore that. This is a bad number," he said.
Wednesday's hot CPI reading also prompted questions over whether inflation has in fact reached its peak. Headline CPI was up 1.3% and core CPI rose 0.7% on a monthly basis, compared with estimates of 1.1% and 0.5%, respectively. Monthly rental costs climbed 0.8% in June, the biggest increase since April 1986.
At the same time, crude oil, commodities prices and housing prices have come down in recent weeks, a signal that rising prices may have hit a wall, said Jeff Kilburg, chief investment officer and portfolio manager of Sanctuary Wealth.
"Big inflation, in my opinion, has happened," he said. "That's articulated in the June CPI data which can arguably be viewed as a lagging indicator. We've seen significant repricing across asset classes and sectors and when you see that repricing of sectors in our economy like housing and autos, that really has to be recognized and appreciated."
The fallback in gasoline prices since reaching record highs in June may also signal that inflation has slowed, Jeremy Siegel, professor of finance at the University of Pennsylvania's Wharton School of Business told CNBC's "Halftime Report" on Wednesday.
"The market is starting to believe that truly this is the peak number and that there are enough inputs that have rolled over that we could start to see inflation numbers subside in the coming months," said Andrew Slimmon, senior portfolio manager at Morgan Stanley Investment Management. "If you look at the history of when we've had these inflation spikes, stocks tend to bottom when the market believes that inflation has topped out."
Slimmon said he is encouraged by Wednesday's market moves, but a potential negative for stocks could come if inflation numbers fail to come down as swiftly as expected.
Rising recession fears
Fears of a recession have climbed as inflation surges. Bank of America economists said Wednesday they are forecasting a mild recession later this year as real GDP growth declines and anticipate that the unemployment rate will jump to 4.6% in 2023.
During the first quarter, GDP declined by 1.5%. It is expected to fall 1.2% in the second quester, according to the latest estimates from the Atlanta Fed's GDPNow tracker. By definition, two consecutive quarters of negative GDP is often considered a recession.
Meanwhile, the Fed's "Beige Book" report released Wednesday found higher fears of inflation and a potential recession.
"It could be the case that we're in a recession, but a very mild one," said Cliff Corso, president and chief investment officer at Advisors Asset Management.
That's likely also the case if the economy is heading into a recession since consumers still have excess cash as a cushion. Whether that recession is enough to bring inflation down to the Fed's target of 2% will remain in focus, he said.
Along with negative GDP, the cost of borrowing continues to rise. At the same time, job growth remains strong with the latest data showing a 372,000 increase in nonfarm payrolls last month, according to the Bureau of Labor Statistics. Real wage growth is rising, albeit at a slower pace than inflation, which could spell further trouble for the economy.
"We really need to restore price stability to get inflation back down to 2%, because without that we're not going to be able to have a sustained period of maximum employment where the benefits are spread very widely and where people's wages aren't being eaten up by inflation," wrote Wolfe Research's Chris Senyek.
In other news, investors are looking ahead to results from major banks including JPMorgan and Morgan Stanley slated for Thursday.
— CNBC's Patti Domm contributed reporting
Copyright CNBC