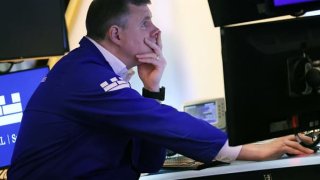 U.S. stocks fell Monday, led downward by the tech-heavy Nasdaq Composite, as investors grew increasingly cautious of rising bond yields.
The Dow Jones Industrial Average lost 34.99 points, or 0.1%, to end at 33,891.02. The 30-stock index made up some ground after losing more than 240 points earlier in the session.
The S&P 500 slid 0.61% to close at 4,111.08. The Nasdaq Composite posted the biggest loss of the three, sliding 1% to end at 11,887.45.
Investors were taking some profits after the stock market's hot start to the year. The S&P 500 is up more than 7% for 2023, while the Nasdaq Composite has advanced for the last five weeks, a streak not seen since November 2021.
Treasury bond yields rose, with the benchmark 10-year yield up by nearly 11 basis points at 3.64% and the 2-year yield adding around 18 basis points to 4.48%. The ICE U.S. Dollar Index rose as much as 0.76% Monday, further contributing to the decline in stocks.
Apple shed 1.8%, pressuring the Dow as concerns over higher rates weighed on some tech stocks. Retail stocks Target and Nike also ended the session down, while defensives such as Merck and Coca-Cola advanced.
"Most stock market participants are a little shook ... by the huge increase in yields for a second straight day," said George Cipolloni, portfolio manager at Penn Mutual Asset Management. "The move in the 2-year over two days is incredible. And I think that's driving most of the moves."
Monday marked the start of another week packed with earnings. Tyson Foods fell 4.6% on the back of a weaker-than-expected earnings report. The Children's Place, a kids' apparel retailer, lost 4% after it pulled back its outlook for its fourth quarter.
Disney, Chipotle, DuPont and PepsiCo are among the major companies reporting earnings later this week, which investors will be watching for any indications that prior interest rate hikes have hurt companies' finances. With the earnings season about halfway over, profits for S&P 500 companies are on pace to be 2.7% lower for the fourth quarter, according to Refinitiv.
"Last week was kind of all about monetary policy and the Fed, the European Central Bank and the Bank of England," said Tom Hainlin, the U.S. head of global investment strategy of U.S. Bank's Ascent Private Capital Management. "This is really about corporate America and what they're seeing."
Investors will also watch Tuesday for Federal Reserve Chairman Jerome Powell's remarks before the Economic Club of Washington. Last week, Powell's comments on disinflation caused investors to bid shares higher and overlook another rate hike out of the central bank.
Lea la cobertura del mercado de hoy en español aquí.
Stocks close down Monday
Stocks ended Monday in the red as concerns over high bond yields weighed on investors.
The tech-heavy Nasdaq Composite led the three major indexes down, losing 1% in the session. The S&P 500 ended down 0.6%, while the Dow shed 0.1%.
— Alex Harring
Wells Fargo upgrades Spotify, says stock can rally nearly 50%
It's time to jump back into the Spotify bandwagon, according to Wells Fargo.
Analyst Steven Cahall upgraded the audio streaming stock to to overweight from equal weight, saying the company is now "off margin probation." The upgrade comes a week following the company's strong fourth-quarter earnings report. 
"When we upgraded SPOT to Equal Weight it was predicated on management showing progress against margin targets. Opex is demonstrating leverage as OI losses improve, and we think SPOT will be break-even in 1Q24," analyst Steven Cahall wrote in a client note on Monday.
CNBC Pro subscribers can read more about his upgrade here.
— Hakyung Kim
Bed Bath & Beyond shares surge
Bed Bath & Beyond shares more than doubled during afternoon trading Monday as volatility continued to rock the battered retail stock.
The surge in shares come as retailer warned in recent weeks that it's missed payments to debtholders, and is running out of cash and weighing filing for bankruptcy.
Bloomberg also reported that employees have yet to receive owed severance payments.
Shares were last up 113% shortly after 3:30 p.m.
Other popular meme stocks GameStop and AMC Entertainment were last up 6.5% and 13%, respectively.
— Samantha Subin
Goldman cuts recession probability to 25%
Goldman Sachs, which already was doubtful of Wall Street's recession expectations, thinks there's even less of a chance now.
The firm cut its recession probability for the next 12 months to 25%, down from 35% previously. That's well below the 65% expectation from the most recent Wall Street Journal survey.
"Continued strength in the labor market and early signs of improvement in the business surveys suggest that the risk of a near-term slump has diminished notably," the firm said in a client note Monday.
GDP is likely to grow just 0.4% in the first quarter but then accelerate through the year, Goldman added.
—Jeff Cox
Stocks remain down as investors enter final hour of trading
Stocks traded down — where they have been for the majority of the session — as the final hour of trading kicked off.
The Dow was down 0.1%, making up a sizable chunk of its prior loss. It briefly turned positive in the afternoon.
The S&P 500 and Nasdaq Composite were down 0.6% and 0.9%, respectively.
— Alex Harring
Dow flickers green, erasing more than 240-point loss
The Dow moved to trading positive, erasing a loss of more than 240 points earlier in the day.
The 30-stock index traded up about 0.1%, or 20 points, around 2:20 p.m. It previously hit a session low of 0.7% down, which equates to 242.43 points.
Meanwhile, the S&P 500 and Nasdaq Composite remained in the red.
— Alex Harring
Several names have gained more than 20% this earnings season
Twelve stocks have gained more than 20% upon their fourth-quarter earnings reactions this season, while only three have fallen by the same amount, according to Bespoke Investment Group.
Among the biggest gainers are Qualtrics , education tech company 2U, 1-800-FLOWERS.COM, Align Technology, Stride, Peloton, and Facebook parent Meta, which is the 10th biggest one-day gainer of the pack. Align earlier today announced a $250 million accelerated stock repurchase agreement with Citibank, sending its shares up 3.6%. 
Software company Bill.com and retailers Hanesbrands and Canada Goose each dropped by more than 20% on earnings reactions this quarter. 
— Pia Singh
The biggest winners and losers in the Dow
The Dow performed the best of the three averages Monday, trading down just 0.1% around 1:30 p.m. It had fallen more than 240 points, or 0.7%, earlier in the session.
Buoying the 30-stock index was Caterpillar, Travelers Companies, McDonald's, Merck and UnitedHealth, which all gained more than 1% in the session. One-third of the stocks in the index traded up.
But laggards kept the index below the flatline. Intel dragged the most with a 3.2% loss. Walgreens traded down about 2%, while Cisco, Apple and Nike all shed more than 1.5%.
— Alex Harring
All S&P 500 sectors trade down
All 11 sectors within the S&P 500 traded in the red Monday.
Communication service and materials posted the biggest losses at 1.3% each.
Consumer staples and utilities performed the best, with each down just 0.1%.
— Alex Harring
Gordon Haskett downgrades Lyft on active rider shortfall
A shortfall in active riders could weigh on Lyft's growth, according to Gordon Haskett.
The firm downgraded the riding sharing company's shares on Monday to hold and lowered its price target from $24 to $29.
"Beyond concern about an active rider shortfall and likely downward top- and bottom-line revision to 2023 and 2024 earnings estimates, we've become increasingly concerned about Lyft's (1) ability to sustain [low double digit percentage] higher pricing relative to Uber, which we believe has been a contributing factor behind improving wait times and (2) predominantly US-based business model given what we expect will be a turbulent U.S. regulatory environment in the months/quarters ahead," Robert Mollins, an analyst at Gordon Haskett, said in a note.
He added that the firm favors Uber, even though it sees a challenging regulatory environment, due to Uber's "geographically diverse business mode as a partial shield against possible unfavorable rulings in the U.S."
— Tanaya Macheel
Stocks making the biggest moves in midday trading
These stocks are among those making the biggest moves in midday trading today:
Click here to see more stocks making midday moves.
— Pia Singh
Expect continued volatility in stocks and bond markets, Defiance ETFs CEO says
Bond yields rose while stocks fell in Monday trading. Sylvia Jablonski, CEO of Defiance ETFs, said the inverse relationship could reverse, but investors should still expect volatility in the short term.
"There's a little bit of a disconnect right now in in both markets," Jablonski said in an interview with CNBC. "A lot of it just lays on the uncertainty of: unemployment remains low, but inflation has also come down, but the Fed's not at the 2% target."
— Alex Harring
Bernstein upgrades Diageo to outperform
Bernstein is getting bullish on Diageo.
Analysts Trevor Stirling upgraded the Johnnie Walker and Ketel One parent to outperform from market perform. He also hiked his price target on the company's U.S.-listed shares to $225 from $215. The new target implies upside of nearly 30% from Friday's close.
"They are well-positioned to profit from the long-term structural growth in US spirits and have great momentum in emerging markets (primarily spirits in LatAm and Asia but also in pockets of Africa). We are confident that they will hit the upper end of their long-term guidance of 5%-7% organic top-line growth, with Operating Profit growth a point ahead," Stirling said in a Monday note.
CNBC Pro subscribers can read more about his upgrade here.
— Hakyung Kim
Bond yields are popping higher. This is how investors can play them
Treasury yields jumped on Monday as investors awaited clues from Federal Reserve speakers on the next steps for monetary policy.
The yield on the 1-year T-bill leapt as high as 4.841% Monday morning, and the rate on the 2-year note jumped to 4.412%. These are the highest levels since Jan. 6. Yields on longer-dated Treasurys ticked higher, too, with the rate on the 10-year note climbing as high as 3.619%, the highest level since Jan. 10. Bond yields move inversely to prices.
Yields have been trending higher since the Fed embarked on its rate-hiking campaign last year, and bond prices tumbled. However, an opportunity has since opened for investors hoping to snap up these fixed-income instruments on the cheap and collect an attractive yield.
Read more on where advisors are looking to play the rising rate environment here.
-Darla Mercado, Gina Francolla
3 S&P 500 stocks hit 52-week highs, while 1 sees new low
Despite the S&P 500 trading down, more stocks within it are hitting new 52-week highs than lows.
Centene hit a low not seen since December 2021 and was the sole S&P 500 to post a 52-week low early Monday.
On the other hand, three components were at highs not seen in more than a year. Regeneron and ON Semiconductor hit levels not seen since their respective initial public offerings in February 1991 and May 2000. Ametek, meanwhile, traded at a high not reached since December 2001.
Outside of the broad index, Sirius XM traded at a low last touched in September 2020.
The following four stocks hit highs not seen in at least a year:
— Alex Harring, Chris Hayes
A strong January for stocks historically suggests further upside, CFRA says
Stocks could be due for a positive year after their strong January performance, according to CFRA.
"Since 1945, whenever the S&P was higher in January, the market posted an average price increase of 15.8% (versus the average annual gain of 8.9% for all years) and rose in price 85% of the time (compared with the more normal 71% batting average)," CFRA's Sam Stovall wrote in a Monday note.
"And if that weren't optimistic enough, a down year (like 2022) that was followed by positive January Barometer saw the S&P 500 gain 23% for the full year and rise in price 92% of the time," he added.
The strategist cited the January Barometer, a technical indicator popularized by The Stock Trader's Almanac.
To be sure, past performance may not necessarily repeat, but the strategist said "it certainly offers encouragement" to investors.
— Sarah Min
Tesla shares rise, build on sharp 2023 gains
Tesla shares outperformed during early morning trading, bucking the broader market downtrend.
Shares of the electric vehicle stock were last up about 2.5% as of 10:10 a.m.
The move in shares comes as optimism and demand improves in China after the company initiated a slew of price cuts targeting some of its best-selling models.
Given this backdrop, Wedbush's Dan Ives upped his price target on shares to $225 from $200, implying more than 18% upside for the stock from Friday's close. The electric vehicle maker also got a price target increase from RBC Capital Markets to $223 from $186 a share, citing the positive price cut response.
"The macro remains uncertain and a recession could likely be on the doorstep, however Tesla is now positioned well with its price points with demand outstripping supply so far in 2023," Ives wrote.
So far this year Tesla shares have been on a tear, up nearly 57% after plummeting 65% during 2022's market rout. In January, shares posted their best week in over a decade.
— Samantha Subin
Morgan Stanley says Disney shares can rally 35%
Shares for Disney could see big gains going forward, according to Morgan Stanley.
Analyst Benjamin Swinburne reiterated his overweight rating on Disney ahead of its earnings announcement on Wednesday. He also noted that his bull case scenario is now in play after the stock's hot start to 2023.
Morgan Stanley has a bull case price target of $150 per share on Disney, which implies upside of 36.1% from Friday's close. The bank's base case target is $115, which points to upside of just 4.5%.
CNBC Pro subscribers can read more about the analyst's forecast here.
— Hakyung Kim
Stocks open lower
The three major indexes were down as trading kicked off Monday.
The Dow lost 87 points, or 0.3%. Meanwhile, the S&P 500 and Nasdaq Composite dropped 0.4% and 0.6%, respectively.
— Alex Harring
Baird names adidas, Under Armour, Wolverine World Wide 'cautious fresh picks'
While Adidas, Under Armour and Wolverine World Wide are fresh picks, investors should take some caution on these stocks after their recent rally, according to Baird.
The investment firm took "cautious trading calls" on those apparel brands through July, ahead of calendar second quarter reporting, according to a Sunday note. The firm said positive sentiment is more than baked into the stocks following raised investor hopes of a Fed pivot.
"While cycling prior-year headwinds should help earnings, back-weighted consensus projections may prove unattainable in the event of any economic softening (our C2023E EPS remains ~15% below consensus)," analyst Jonathan R. Komp wrote.
The apparel stocks have surged in 2023. Shares of Adidas jumped 27% this year, while Under Armour is more than 24% higher, as of Friday's close. Meanwhile, Wolverine World Wide shares soared more than 48%. Those rallies raise the risk of future downside for these names, according to the analyst.
"Valuation no longer provides significant margin for error, and we are signaling a more cautious stance on stocks with high operating leverage and/or questionable balance sheet/inventory health," Komp wrote.
— Sarah Min
SVB MoffettNathanson downgrades T-Mobile as growth outlook for telecomm weakens
SVB MoffettNathanson moved to the sidelines on T-Mobile amid what the firm sees as the toughest backdrop ever for telecommunication growth.
Analyst Craig Moffett downgraded the stock to market perform from outperform and set a price target of $174. That price target still implies the stock could rally 19.8% from where it closed Friday. Before the downgrade, he recommended T-Mobile shares since 2012, when the only way to invest in the company was through purchasing MetroPCS in anticipation of a merger.
Moffett said the company still has a good valuation coming off "dramatic" outperformance in 2022, when the stock gained 20.7% despite the broader market decline. But he said the sliding growth outlook for the industry has made it hard to stay bullish on the stock.
"Throughout that decade-plus stretch, we've described T-Mobile as the best house on a bad block," Moffett said in a note to clients Monday. "Our relatively bearish view of the wireless industry notwithstanding, we've always viewed T-Mobile's combination of improving network, lowest prices, and modest valuation as too compelling to pass up. Until now."
T-Mobile shares fell 2.2% in premarket trading Monday.
He's isn't optimistic about competitors either, noting that growth among the "Big Three" telecommunication companies will be "harder to come by than ever," even if the companies expect differently. SVB MoffettNathanson also has a market perform rating for Verizon, while placing AT&T at underperform.
"We see a growing mismatch between industry growth rates and company expectations, not just for T-Mobile, but for all of the Big Three," he said.
— Alex Harring
These are some of the stocks moving the most before the bell
These are some of the stocks moving the most before the bell.
Tyson Foods – Shares of the food processing giant suffered a 6% drop in premarket trading after the company reported weaker-than-expected results for the first quarter. Tyson Foods missed estimates on both the top and bottom lines.
PayPal — Shares of the payments company fell 2.6% in premarket after Raymond James downgraded the stock to market perform from outperform.
Children's Place — The children's apparel retailer shed more than 16% after management cuts its outlook for the fourth quarter as it deals with a difficult macro environment. 
Read the full list of stocks moving the most before the bell here.
— Samantha Subin
S&P 500 nears 'formidable resistance' point and could see downside, BITG market technician says
The S&P 500 has moved near 4,200 points in recent days. It likely won't stay there, according to Jonathan Krinsky, chief market technician at BITG Research.
"After a 20% rally off the intraday lows of October, we expect 4,200 to act as formidable resistance and see the SPX turning lower from here," he said in a note to clients Monday.
Krinsky added that the index has posted one of its largest volumes in the last three years. Last week, the index reached a five-month high.
— Alex Harring
Market narrative has evolved from 'soft landing' to 'no landing,' Vital Knowledge says
Adam Crisafulli of Vital Knowledge noted Monday morning that a drastic change in the market's narrative on the economy is pressuring futures to start the week.
"The narrative has evolved from "hard landing" (in place for most of Q4) to "soft landing/goldilocks" (in place for most of Jan) to "no landing" (currently in place)," he said in a note. "This, along with the attendant hawkish implications for monetary policy and inflation, coupled with the removal of the large positioning tailwind that helped propel prices higher throughout the year... is contributing to the equity pullback."
"It's very notable how NO ONE is defending the tape – all the stubborn bears who missed the recent advance are rushing out negative missives, blaming the YTD rally on nothing more than the 'January Effect', 'forced CTA buying', '0DTE options trading', etc., and predicting a rapid return to ~3800 (or worse)," he said.
Wall Street is coming off a strong weekly performance, with the Nasdaq Composite notching a five-week winning streak. The S&P 500, meanwhile, posted its fourth weekly gain in five weeks.
— Fred Imbert, Michael Bloom
Disney earnings on deck this week, along with retail and travel names
The halfway point to earnings season was hit on Friday morning, with exactly 250 S&P 500 companies having reported now.
In the week ahead, 89 companies in the S&P 500 companies are set to report along with one Dow component also headlining earnings this week: Disney.
Aside from Disney, investors will also get an early look at the retail scene from a few apparel companies, including Under Armour, Ralph Lauren and VF Corp., the parent of brands like Vans, The North Face, Timberland, and Dickies.
Chipotle and Yum will shed light on fast food spending following McDonald's strong report. Additionally, Hilton, Expedia, Royal Caribbean – as well as Uber, Lyft and Hertz – will give traders a view on travel spending.
— Robert Hum, Tanaya Macheel
Traders searching for an S&P 500 rally after the index formed a 'golden cross' last week
Last week, the S&P 500 formed what Wall Street calls a "golden cross," which happens when a 50-day moving average crosses through and above the 200-day moving average. Moving averages are simply the average of the last 50, or 200, closing prices.
Traders and analysts use the golden cross as an indicator that a market trend is about to turn more positive. The opposite, the so-called death cross, would indicate a bearish change. There have now been 37 golden crosses on the S&P 500 since 1950, according to Carson Group chief market strategist Ryan Detrick.
For more on what typically happens after the S&P 500 forms a golden cross, check out our full story on CNBC Pro.
— Tanaya Macheel
Where the major averages stand
The S&P 500 and Nasdaq Composite are coming off winning weeks despite ending Friday on a down note. The Dow Jones Industrial Average ended the week lower, however.  
All of the major averages finished the Friday session lower. The S&P and Nasdaq fell      1.04% and 1.59%, respectively. The Dow was the outperformer, ending the day lower by just 0.38%.
However, the Dow was also the only one of the major averages to finish the week lower, by 0.15%. The S&P 500 and Nasdaq rose for the week by 1.62% and 3.31%, respectively.
The Dow has notched the smallest year-to-date gain, being up 2.35%, but it's sitting only 5.3% from its all-time high. Meanwhile, the S&P is 10.8% from its record and the Nasdaq 18.02%.
— Tanaya Macheel
Dow and S&P 500 futures open lower Sunday
Futures tied to the Dow Jones Industrial Average opened at 33,886.00 on Sunday evening after the index finished the Friday session at 33,926.01. S&P 500 futures opened at 4,134.25, after the benchmark index closed at 4,136.48 Friday.
Nasdaq 100 futures were trading at 12,572.00. The Nasdaq Composite ended the Friday session at 12,006.95.
— Tanaya Macheel
Copyright CNBCs - CNBC