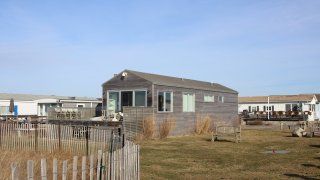 In 2022, there weren't any properties for sale in the Montauk Shores community of the Hamptons, New York, but that didn't stop one mystery buyer from making a record-breaking purchase.
The buyer already owns a house in the Hamptons, but wanted an oceanfront trailer, Will Gold from the Atlantic Team at Douglas Elliman tells CNBC Make It.
"They had their eye on something renovated down there but didn't want it to feel small," Gold says. "They wanted it to feel like a proper home on the ocean."
The Montauk Shores community and Ditch Plains area are home to many famous faces, including Vitamin Water co-founder Darius Bikoff, hedge-fund manager Dan Loeb, and Jimmy Buffet, according to The Real Deal.
In 2017, Architectural Digest said it was "a trailer park with million-dollar listings, billionaire residents, and a parking lot filled with six-figure cars."
Though nothing was on the market at the time, Gold found a family that wasn't totally interested in selling their waterfront home— but would for the right price.
The property in question was a custom-built two-bedroom, two-bathroom 800-square-foot mobile home with high-end finishes.
It was designed with 180-degree views of the ocean from the living room and private back deck, a gas fireplace, a grill, and an outdoor shower.
Seven months after his initial offer, the owners agreed to sell the trailer for $3.75 million, which is the equivalent of $5,000 per square foot. It was a record-breaking sale.
Since the trailer is in the Montauk Shores residential community, the sale also includes access to swimming pools, a recreational center, a playground, and a basketball court.
Before this one, the last highest recorded sale in the area was also a luxury trailer. That unit sold for $1.85 million in 2022. That record is set to be broken since another unit, also represented by Gold and the Atlantic Team at Douglas Elliman, recently sold. Its asking price was $1.99 million.
The unit is a two-bedroom, one-bathroom, non-custom-built mobile home that is about 150 square feet smaller than the $3.75 million one.
The Montauk Shores and Ditch Plain area are known surfing destinations. Gold says, that for his clients, it was the most important aspect and the high price was worth it.
"It's pretty much its own little neighborhood that's very tight-knit and family oriented. It has a really sweet, classic Montauk vibe when you walk through it," Gold added.
DON'T MISS: Want to be smarter and more successful with your money, work & life? Sign up for our new newsletter!
Get CNBC's free Warren Buffett Guide to Investing, which distills the billionaire's No. 1 best piece of advice for regular investors, do's and don'ts, and three key investing principles into a clear and simple guidebook.
Copyright CNBCs - CNBC