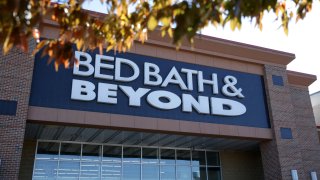 Bed Bath & Beyond said it will be closing 150 more stores as the home goods chain cuts costs as it works to stay afloat. The store closure list posted on the company's website includes three more Connecticut stores, bringing the total to seven that will be closing.
The company now said it plans to close stores in Guilford, Manchester and Norwalk.
These CT Bed Bath & Beyond Stores Are Closing
The store closure list includes:
Bed Bath & Beyond at 20 Hazard Ave. in Enfield
Bed Bath & Beyond at 2260 Kings Highway in Fairfield
Bed Bath & Beyond at 1919 Boston Post Road in Guilford
Bed Bath & Beyond at 169B Hale Road in Manchester
Bed Bath & Beyond at 542 Westport Ave. in Norwalk
Bed Bath & Beyond at 835 Queen St. in Southington
Bed Bath & Beyond at 1065 Silas Deane Highway in Wethersfield
There are Bed Bath & Beyond stores in Brookfield, Hamden and Simsbury.
The Hamden store was on the list of store closures for 2022, which also included Stamford and Waterford.
The announcement of additional store closures came after the company based in Union, New Jersey, said it had raised about $1 billion through offerings of preferred stock and warrants to purchase the company's common stock. The funds will be used to pay off its debt, it said.
The company's volatile stock, which rose 92% on Monday, fell 47% on Tuesday, ending the day at $3.01, down 82% over the past year.
In early January, Bed Bath & Beyond warned that it may need to file for bankruptcy. A few weeks later, it said it was in default on its loans and didn't have sufficient funds to repay what it owes.
The latest store closures come as the chain has been reducing its footprint dramatically over the past year.
According to a regulatory filing, it will have shuttered more than 400 stores, nearly half of its fleet. That includes the remaining 50 standalone Harmon Face Value Stores, which sells beauty and household products.
The company said it anticipates keeping 360 of its namesake stores in addition to 120 BuyBuy Baby stores.
The company operates one BuyBuy Baby store in the state and it's in West Hartford.
Bed Bath & Beyond also said in the filing that it expects sales at stores opened at least a year to be down anywhere from 30% to 40% during its first fiscal quarter, with "sequential quarterly improvement after that."
NBC Connecticut and Associated Press