It's SunnyD like you've never seen before.
The Connecticut-based company just announced its newest drink - the SunnyD Vodka Seltzer and they promise it'll have you feeling nostalgic for those bright, carefree days.
"We have developed something we know adult SunnyD fans and hard seltzer enthusiasts alike will be proud to enjoy," said Ilene Bergenfeld, chief marketing officer of the Harvest Hill Beverage Company, which owns SunnyD.
When Will SunnyD Vodka Seltzer be Available in Stores?
The drink "created by popular demand" will be available starting this Saturday, March 11. They'll come in packs of four and will retail for $9.99.
What's in SunnyD's Vodka Seltzer?
The new alcoholic drink is made with real fruit juice, vodka and is gluten-free. It's also only 95 calories a can, SunnyD said.
SunnyD's tangy orange hard seltzer contains 4.5% alcohol by volume.
"We crafted SunnyD Vodka Seltzer to have the same great orange taste as the SunnyD our fans know and love," the company said in a news release.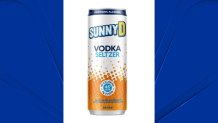 Where Can I Buy SunnyD Vodka Seltzer?
SunnyD Vodka Seltzer is available in most states and can soon be found at your local Walmart.
The drink is made with a natural sweetener and it's best served cold.
The brand was first developed in 1963 when two Florida dads looked around an orange grove, and thought, "good, but we can do better." The pair created SunnyD and a legend was born, the company said.
The brand grew in popularity in the 1990s and landed a dedicated fan base. More recently, SunnyD has seen increased popularity since 2019.