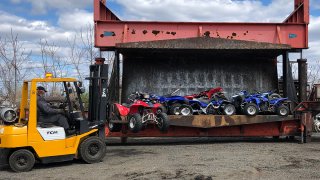 Hartford Mayor Luke Bronin said the city has been getting complaints about loud ATVs and dirt bikes in the city while people are in quarantine due to the COVID-19 pandemic and he and other officials stood by as illegal vehicles were crushed during a news conference on Tuesday afternoon.
Bronin started off the news conference by saying the curve has begun to flatten, but there is a long and slow road ahead as the pandemic continues.
As people quarantine, one of the top complaints the mayor has gotten is about ATVs and dirt bikes racing through the community.
Hartford police have been targeting the illegal operation of recreational vehicles on public property.
On Tuesday afternoon, the mayor oversaw the destruction of ATVs and dirt bikes that were seized for being operated illegally.
Before the machine crushed around 30 vehicles, the mayor said ATVs and dirt bikes police seized that had been stolen from their rightful owners had been returned.
Hartford police said that these particular vehicles were not auctioned off because many were modified with "shoddy" work, and that the department did not feel comfortable selling them in that condition.
Police also wanted to avoid the possibility that the vehicles would be sold and wind up back on city streets.
The news conference is at an auto body shop on Wethersfield Avenue.