Some COVID-19 testing sites across the state are adjusting their schedules due to the snow on Sunday.
NBC Connecticut meteorologists have issued a First Alert for Sunday's snowstorm, which will impact all of Connecticut.
An area of low pressure will bring a period of snow from early morning until early evening on Sunday.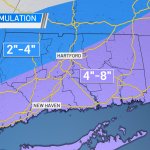 Community Health Center
All Community Health Center COVID-19 testing locations will close early on Sunday.
All sites are scheduled to close at 11:30 a.m.
Tolland
The COVID-19 testing site scheduled for Sunday at Tolland High School is canceled.
The testing clinic was supposed to take place from noon to 3 p.m.
Yale New Haven Health
All COVID-19 testing and vaccine sites will close at noon Sunday in preparation of the snow.
All locations are expected to reopened on Monday, Feb. 8.
Yale New Haven Health is affiliated with the following: Bridgeport Hospital, Danbury Hospital, Greenwich Hospital, Griffin Hospital, Norwalk Hospital, St. Mary's Hospital and Waterbury Hospital.