As the COVID-19 vaccine rollout continues in Connecticut, there are growing concerns about the spread of virus variants in the state.
For a period of time, we were making progress, but when it comes to COVID-19, Connecticut is one of the states that's been ticking up in cases recently.
The uptick in cases caused the Dept. of Public Health to issue a warning over the weekend reminding people to remain vigilant as several communities throughout the state have gone into Red Alert status.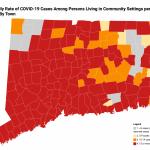 Health officials are also urging people to get the vaccine. To provide options, there will be clinics reopening.
Starting tonight, East Hartford will hold a second clinic for childcare providers. It will take place at the Community Cultural Center from 6 p.m. to 8 p.m.
UConn Health is also opening a clinic on the UConn Storrs campus today and it's all about getting shots in the arm as quickly as possible.
"In order for us to get to a sense of feeling normal about this, the more people we have immunized against COVID-19, the faster we could see that level of protection in our community for protecting each other and get back to a low occurrence of COVID-19," said East Hartford Director of Health and Social Services Laurence Burnsed.
Who Can Get a COVID-19 Vaccine in Connecticut
The state started the vaccine rollout in mid-December by vaccinating healthcare personnel, long-term care facility residents and medical first responders.
As of mid-January, Connecticut residents 75 and older have been able to sign up for an appointment and get a vaccine.
Pre-K-12 Teachers, paraprofessionals, custodial staff, food service providers, school bus drivers and childcare providers as well as in-school administrative staff. This group does not include individuals who are not required to work on-site in a school.

Note: Pre-K-12 school staff and teachers, and professional child care providers will be eligible for the vaccine.

People 45 to 55
People 16 and up
Note:To get a vaccine in Connecticut, you must either live or work in the state. If you typically visit a provider here but do not live or work in Connecticut, you are not eligible and must get vaccinated in your home state.
How to Get an Appointment for a COVID-19 Vaccine in Connecticut
By phone: Call Connecticut's Vaccine Appointment Assist Line at 877-918-2224, seven days a week from 8 a.m. to 8 p.m. for scheduling at select sites.
Online: Schedule a COVID-19 vaccination appointment in VAMS, the Vaccine Administration Management System.
Fill out the form to let the Department of Public health know you are interested in creating an account in VAMS. If you are currently eligible to receive the vaccine then you should receive an email from VAMS to complete your registration within 12 hours. Click here to create an account.
Check for an email from no-reply@mail.vams.cdc.gov. Click on the link in the email and create your account. You will be prompted to retrieve a code that will be emailed to you. You will need to create a password and store it in a safe place.

If you forgot your password, the "forgot password" link on the login page can only be used if you have created a password as part of your VAMS registration.

Complete your VAMS registration.

The first question that will be asked in VAMS is "Have you already registered as a vaccine recipient with VAMS?" The answer to this question is "No."
Questions with a red asterisk are mandatory. 
Insurance information does not need to be entered.
You will be prompted to share some additional information about yourself.
In order for VAMS to recognize your option chosen for race, click on your choice in the box on the left and click the right-pointing arrow to move your choice to the box on the right.

Use your zip code to search for clinics near you in VAMS.

The system will automatically search for clinics within a 10-mile radius of your zip code, but you may choose up to 100 miles from the dropdown menu, which might provide more clinic locations in your search results.
You might need to check multiple clinic locations to find an available appointment. Find a slot that works for you, and book your appointment.