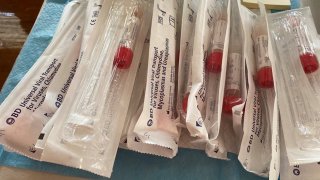 Connecticut's seven-day rolling COVID-19 positivity rate is 4.26%.
On Monday, the state began reporting COVID-19 positivity rates on a rolling seven-day average, rather than a daily average to better align with how the CDC tracks positivity rates, according to the Department of Public Health.
In the last 7 days, 64,052 tests have been reported, and 2,726 were positive.
According to officials, 93 patients are hospitalized with COVID-19, down one in the past week.
Of the 93 patients hospitalized, 37 (39.8%) are not fully vaccinated.
For a breakdown of state COVID-19 information click here.
Coronavirus Pandemic
Full coverage of the COVID-19 outbreak and how it impacts you