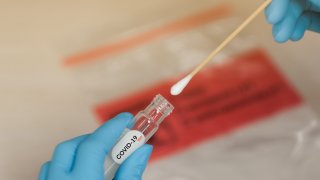 Connecticut's 7-day rolling COVID-19 positivity rate is 7.6%. According to Gov. Ned Lamont's office, there have been 10,826 total COVID-19-related deaths in the state, an additional 17 since last Thursday.
Officials said 59,858 tests have been reported since last Thursday, and 4,547 were positive.
There are 176 patients hospitalized with COVID-19 in Connecticut, an additional 37 since last Thursday. Of those 176 people hospitalized, 58 (32.95%) are not vaccinated, according to officials.
State officials said there are now over 100,000 residents who've received their second booster shot. In comparison, approximately 1.5 million people got their first booster shot in Connecticut.
For a breakdown of state COVID-19 information click here.