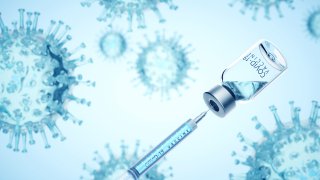 Connecticut's 7-day rolling COVID-19 positivity rate has risen to 13.24%.
Wednesday's positivity rate was 13.01%.
According to Governor Ned Lamont's office, 72,531 tests have been reported in the last week, and 9,606 were positive.
There are 291 patients with COVID-19 throughout the state. Of those 291 people, 102 (35.05%) are not fully vaccinated.
According to officials, there have been 10,883 COVID-19 associated deaths in the state, an additional 25 since last Thursday.
For a breakdown of state COVID-19 information, click here.
Coronavirus Pandemic
Full coverage of the COVID-19 outbreak and how it impacts you