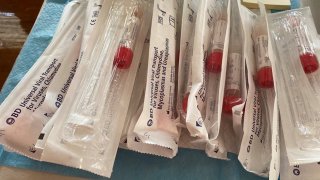 Connecticut's daily COVID-19 positivity rate has shown a significant decrease since Friday.
According to Gov. Ned Lamont's office, the positivity rate is now 11.36%, down from Friday's 13.69%.
Of the 106,153 tests reported since Friday, 12,057 were positive according to officials.
Hospitalization numbers have also continued to decrease.
According to officials, Monday's current number of patients hospitalized is 1,477, down 218 since Friday.
For a breakdown of state COVID-19 data click here.