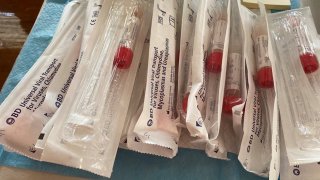 Connecticut's daily COVID-19 positivity rate is now 13.74%, an increase from Monday's 11.36%.
According to Gov. Ned Lamont's office, of the 27,834 tests reported since Monday, 3,824 were positive.
Hospitalization numbers have continued to decrease.
According to officials, the number of patients hospitalized Tuesday is 1,446, down 31 since Monday.
Of the 1,446 patients hospitalized with COVID-19, 802 (55 percent) are not fully vaccinated, officials said.
For a breakdown of state COVID-19 information click here.