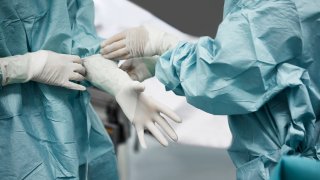 Elective surgeries in Connecticut, put on hold since the start of the coronavirus pandemic in March, may soon resume, a spokesperson for the governor's office told NBC Connecticut Friday.
Elective surgeries were paused by health care providers to make sure there was enough hospital capacity and personal protective equipment for coronavirus patients, according to the governor's office. While these surgeries remain on hold, as the state begins the process of reopening, providers should be assessing their PPE situations and reviewing guidance from the CDC and their professional associations to see how and when they can begin safely restarting such services, the governor's office said.
Elective surgeries were not subject to a specific executive order.
The governor's spokesperson said Friday that their office has continued conversations with health care providers about elective surgeries.
In addition, some dentist offices have begun plans to reopen to patients starting after May 20. The governor's office said they are aware of this and are urging all health care providers to abide by the guidance from their professional associations.