Connecticut's COVID-19 positivity rate went down to 5.29% and hospitalizations have increased by 55.
There are currently 1,111 people hospitalized with the virus in the state.
The state's 7-day rolling positivity rate average is 6.6%, according to Gov. Ned Lamont.
An additional 69 more people have died from the virus since Saturday. The death toll is now 6,168. The state's COVID-19 death toll exceeded 6,000 on Saturday.
Of over 85,000 tests performed in the past two days, 4,516 came back positive.
The state's positivity rate on Saturday was 7.06% and even higher on Thursday, Lamont said.
Vaccine Distribution in Connecticut
Connecticut is one of eight states to vaccine greater than 2% of the population so far. As of Monday, there have been 75,180 vaccines distributed in the state, according to Lamont.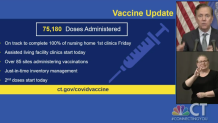 The governor said that the state is on track to completely vaccinate 100% of Connecticut nursing homes by the end of the week.
Assisted living facility clinics will start to administer second doses of the vaccine as early as today.
Lamont said the vast majority of nursing home residents are getting the vaccine. He said fewer healthcare workers are opting in to receive the vaccine, but still, a large majority is getting it.
There are over 85 sites administering vaccines in Connecticut at this time.
New Variants of COVID-19
A variant of the coronavirus identified in South Africa is more problematic than the strain found in the U.K., Britain's health minister said Monday, as both strains continue to spread rapidly, CNBC reports.
Both the U.K. and South Africa are struggling with a surge in COVID-19 infections, which have been attributed in large part to new mutations in the virus that make it more transmissible.
Multiple states across the U.S. have now identified cases of the new U.K. coronavirus strain in people with no travel history, a sign that the variant could already be spreading unknowingly among Americans.
A man in his 60s living in upstate New York has tested positive for a new strain of the virus.
Lamont said there is no evidence of the new COVID variant in Connecticut at this time.