The state's COVID-19 positivity rate is 5.4% and hospitalizations have jumped by nearly 100 over the weekend.
There are currently 757 hospitalizations in the state. That is up from 659 on Friday. Connecticut has seen a trend of increasing hospitalizations from roughly 1% of people who've tested positive for the virus in mid-October to 6% now in mid-November.
On Friday, the state of Connecticut's COVID-19 positivity rate was 6.37%. The seven-day rolling positivity average is 5.6%.
A total of 4,639 people of 86,210 tests performed were COVID-positive since Friday.
"Our COVID cases are ramping up," according to Gov. Ned Lamont. He said the state will likely be heading to 100,000 cumulative COVID-19 cases by the weekend.
An additional 22 people have died from the virus, bringing the death toll to 4,759.
Governor, Senior Staff Undergo COVID Tests After Director of Comm. Tests Positive
On Friday afternoon, the governor's office announced that Lamont was self-quarantining after his director of communications tested positive for COVID-19 and the governor's chief of staff, Paul Mounds, and chief operating officer Josh Geballe were also self-quarantining.
Lamont said he tested negative for COVID-19 on both Friday and Monday. Mounds and Geballe said they have also undergone a few tests which have all came back negative.
"I'll stay close to home for the immediate future, that's for sure," Lamont said. He said he plans to self-quarantine for 14 days.
The governor said he and other senior staff members are quarantining "out of an abundance of caution."
"We are going to be good but we look out for each other, sort of like a band of brothers and sisters in the governor's office," Lamont said.
Dr. Marcella Nunez-Smith Speaks on COVID Task Force Priorities
One of the chairs of President-elect Joe Biden's coronavirus task force, Dr. Marcella Nunez-Smith of the Yale School of Public Health, joined Monday's COVID-19 briefing.
Nunez-Smith said the task force's main focus is on equity. She noted that the community of color has been very hard hit by the virus.
"We know more now than we did in the spring," Nunez-Smith said.
Nunez-Smith said the president-elect is taking the COVID-19 crisis seriously.
Lamont said the state will work with Walgreens, CVS and others to get a vaccine rolling within the next four to six weeks.
"There is a lot to learn from states like ours," Nunez-Smith said.
She is urging people to continue wearing masks and keep social distance.
"Wear your mask. Keep your social bubbles tight. We will emerge from this," Nunez-Smith said.
COVID Alert CT Update
The governor said that 600,000 people are signed up for COVID Alert CT. That is about 17% of the population who have activated the service since Thursday.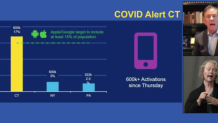 COVID Alert CT, the state's official exposure notification system, is now available for Apple and Android.
Once installed, the app uses Bluetooth to determine if a user's device moves within six feet of someone who has tested positive for the virus for a total of 15 minutes or more in a day. The app does not share personal information.
Lamont is urging everyone to sign up for it.
Tristate Strongly Encouraging COVID Safety Among College Community
During a meeting with other tristate leaders over the weekend, Lamont said COVID safety among the college community was a main topic of discussion.
The Department of Public Health released guidance to colleges and universities in Connecticut on Thursday regarding COVID safety.
Students are being strongly encouraged to quarantine for 14 days before or after coming home from Thanksgiving travel.
No parties or reunions should take place at home, the governor said.
Students are also advised to get tested for COVID-19 before leaving school and after getting home. They should also avoid quarantining with elderly or at-risk family members.
Moderna announced Monday that preliminary data from its phase 3 trial showed its coronavirus vaccine is more than 94% effective in preventing COVID-19.