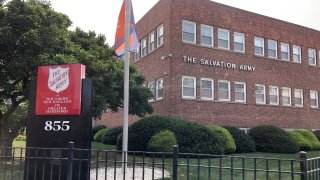 The Salvation Army in Connecticut has announced #RescueChristmas, a joint effort with the Hartford Fire Department, for its fundraising efforts approaching the holidays this year. The collections begin today, earlier than ever, to help families in need amid the COVID-19 pandemic.
The Salvation Army said Rescue Christmas is about helping in several ways, including feeding families, helping them stay in their homes and to keep the lights on.
Hartford fire chief Reginald Freeman joined the Salvation Army at a news conference in Hartford to challenge other fire departments from around the state to help in the fundraising efforts.
"The Salvation Army has been a beacon of hope to struggling families in need and we are here to support them by raising funds through a fill the boot drive," Freeman said.
Freeman said he received help from the Salvation Army when he was a child and feels it is important to give back.
"If it were not for the Salvation Army, I would not have received Christmas gifts underneath my Christmas tree," he said.
Standing by a sign that says, #RescueChristmas, officials discussed that they are starting the collection campaign earlier than ever.
Salvation Army bell ringers are well-known around the holidays, collecting money outside malls and stores. During the coronavirus pandemic, it may be much more difficult for bell ringers to collect the level of donations that they have in the past.