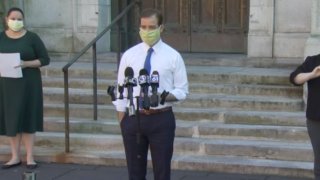 The city of Hartford has had 192 confirmed coronavirus cases and 12 deaths, the mayor announced Wednesday.
"That is not at the level that some of our fellow cities have seen," Mayor Luke Bronin said. "We expect this to ramp up and to escalate."
Bronin said he expects the peak to come later than parts of southern Connecticut.
"Here in our Hartford, we are still probably a few weeks away from our peak," he said. The city is preparing for its peak in the coronavirus fight to come in mid to late May, according to the mayor.
"Our goal is keep that peak as low as possible," Bronin said.
He warned that the city needs to be prepared.
"We need to be prepared for our numbers to continue to increase here," the mayor said.
Coronavirus Pandemic
Full coverage of the COVID-19 outbreak and how it impacts you
The city has moved just under 200 homeless residents from shelters to local hotels to help reduce the possibility of large scale transmission in shelters. However, some shelters are still in operation for those residents who have larger or unique needs.
Hartford also finalized an agreement with the University of Hartford for 200 free rooms for first responders and other essential employees.
"We wanted to work with our team to provide a place where they could go and live away from home during this public health crisis and not put their families at risk," Bronin said. "I hope that brings some piece of mind and comfort to our team as they work."
Bronin also announced a partnership with UnitedHealthCare Group to prepare as many as 11,000 meals every week for seniors, homeless residents, first responders.