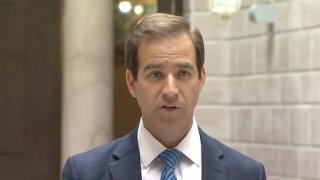 Hartford Mayor Luke Bronin is discussing the state's second rapid COVID-19 testing site with city and state leaders on Tuesday.
Appointments for free COVID-19 tests can be made by calling Hartford 311 at (860) 757-9311 Monday through Friday from 8 a.m. to 5 p.m., city officials said.
At the rapid testing site, people can get their results back within 45 minutes, Bronin said.
"To have a site like this where you can get your results back quick, is a big deal," Bronin said.
The testing site is available for residents and non-residents, the mayor said.
We've done everything we can to expand testing in the city, Bronin said.
"This is a great thing for the city of Hartford," said the mayor.
The mayor said there are now 10 testing centers where people can get tested for COVID-19.