The coronavirus positive test rate has increased to 1.6% and hospitalizations have reached a high that Connecticut hasn't seen since July 10, according to Governor Ned Lamont.
Lamont said this uptick is a trend and it is "something we are watching carefully."
"I do look at Rhode Island. I do look at New York, and I see some similar trends," Lamont said.
The governor said the state is looking into what is causing this upward trend.
Connecticut has seen a week straight with the positivity rate for coronavirus tests above 1%. The state had seen the positivity rate below that mark for most of the summer.
There are now 75 hospitalizations in the state.
An additional 220 people have tested positive for COVID-19, bringing the state's total to 55,386.
One new death has been reported. The total death toll in Connecticut is now 4,488.
Despite the recent positive trend, Lamont is hopeful of this Halloween season.
Lamont said the state is considering issuing guidance regarding door-to-door trick or treating.
"Trick or treating, outside, wearing a mask. I think we can do it," Lamont said.
Budget Outlook
According to Lamont, Connecticut's Budget Reserve Fund, or rainy day fund, now stands at $3.1 billion, which includes a substantial $569 million deposit. The governor said this is the most the state has ever had in the rainy day fund.
The rainy day fund accounts for 15% of the state's budget, which is the seventh strongest reserve in the nation, according to Lamont.
Because of the strong rainy day fund reserve, Lamont said the state was able to transfer $62 million to a pension plan, which Connecticut has never been able to do.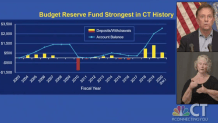 Connecticut is nineteenth out of 50 states in terms of economic bounce back and second among regional peers following the emergence of COVID-19, Lamont said.