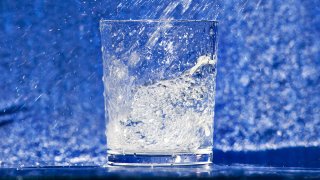 Connecticut officials have banned utilities from shutting off services to customers amid concerns about coronavirus.
The utilities order applies to all electric, natural gas and water companies in the state. The Public Utility Regulatory Authority said it will be in effect during the public health and civil preparedness emergencies declared by Gov. Ned Lamont.
"People need electricity, heat and water to stay home safely right now," State Attorney General William Tong said.
Metropolitan District
Before the ban was announced. the Metropolitan District (MDC) said it will not initiate any water service shutoffs this season until further notice amid concerns about coronavirus COVID-19.
The company said availability of potable water is critical under these circumstances, and should not be interrupted for any reason.
While water will continue to be provided even for customers delinquent on their bill, individual water meters will continue to record water usage and water bills will continue to be generated and delivered to customers, MDC said.
To reduce in-person transactions, the MDC would like to remind customers that the online and over the phone payment options, which have been available to customers prior to this crisis, remain accessible through the website or by calling (860) 278-7850 and following the prompts.
The MDC said, In response to developments relating to the coronavirus pandemic, they have coordinated with the Department of Public Health and the CT Department of Environment and Energy Protection that oversee drinking and wastewater activities.
"MDC's ability to serve our customers is paramount. Although MDC has a significant number of certified water treatment operators, regulated by the State of CT, we have requested DPH to recertify retired personnel, if necessary, to supplement staff," a news release from MDC said.
MDC has scheduled weekly conference calls with the State Regulatory Authorities to address the dynamic circumstances occurring throughout the State and Country.
Regional Water Authority
Before the ban was announced, the Regional Water Authority said it s halting water service shutoffs due to nonpayment until April 30 amid concerns about coronavirus and said the company is taking "reasonable precautions" in response to the spread of Coronavirus disease 2019 - in Connecticut and  remains confident that COVID-19 poses no risk to drinking water.
"Running water and a way to heat that water—through electricity or natural gas— are essential for COVID-19 prevention sanitization. There are many Connecticut families heeding public health and safety warnings by staying at home in quarantine due to COVID-19 infection, potential exposure to COVID-19, or flu-like symptoms," Tong said in the petition. "In order to maintain Connecticut's public health and safety, such families must be able to comfortably stay at home under safe conditions which include running utilities that are essential for hygiene, cleaning, cooking, and climate control."
"In addition, many families are staying at home — or may be forced to stay at home — due to work and school closures in response to the pandemic virus. It would be impossible for home schooling in households with no electricity, which raises educational equity issues as students from low-income or otherwise vulnerable families would not have the same at-home learning opportunities without electricity for internet services," Tong went on to state.
The Regional Water Authority said it is halting water service shutoffs due to nonpayment until April 30, when it will revisit the policy.
"Access to water is critical to the protection of health and safety at all times, but particularly when managing a serious disease outbreak like COVID-19," Larry Bingaman, President and CEO of the Regional Water Authority said in a statement. "No one should be deprived of access to tap water due to inability to pay during this time of heightened need. The RWA is temporarily ceasing all water service shutoffs as a result of nonpayment until April 30 so that our customers will continue to have access to water for hygiene, consumption and safety during the current pandemic event."
- RWA Water Treatment Process
The RWA's regular water treatment processes include disinfecting all water before it reaches customers and the RWA said it is taking steps to help ensure employees remain healthy and available to oversee and manage the company's water system.
- RWA Request of Customers
The company said the staff at the RWA's water treatment plants are being encouraged to avoid large gatherings or attending meetings at company headquarters unless it is necessary. This will limit contact with other people, thereby decreasing the likelihood of exposure to COVID-19.
The company is asking that customers not schedule in-home appointments or visit RWA locations if anyone in their household is exhibiting symptoms of COVID-19, has recently been in contact with anyone with COVID-19 or has traveled to a location identified as high-risk by the CDC.
PURA Directs Utilities to Cease Shutoffs During COVID-19 Outbreak
The announcements about halting shutoffs came just before the state Public Utilities Regulatory Authority announced that it issued a ruling that directs all regulated electric, natural gas, and water companies in the state to cease residential service terminations for non-payment as a protective measure during the current public health emergency.
Attorney General William Tong had sought an emergency moratorium a day earlier on electric, natural gas, and water utility shut-offs in response to the coronavirus pandemic.
Tong's petition seeks to cease all utility service terminations for a 30-day period subject to renewal to ensure all residents can safely remain home during the epidemic.
PURA said its ruling applies to PURA-regulated public service companies and will remain in effect at least for the duration of the Public Health and Civil Preparedness Emergency declared by Governor Lamont on March 10.
a
Coronavirus Symptoms
The key symptoms of the coronavirus, according to the CDC are:
Fever
Cough
Shortness of breath
Symptoms can appear in infected persons two to 14 days after exposure.
Coronavirus Prevention Steps
Steps for prevention from the CDC include:
Avoid close contact with people who are sick.
Avoid touching your eyes, nose, and mouth.
Stay home when you are sick.
Cover your cough or sneeze with a tissue, then throw the tissue in the trash.
Clean and disinfect frequently touched objects and surfaces using a regular household cleaning spray or wipe.
Cover your mouth and nose with a cloth face cover when around others

You could spread COVID-19 to others even if you do not feel sick.
Everyone should wear a cloth face cover when they have to go out in public, such as to the grocery store
Coverings should not be placed on children under 2, anyone who has trouble breathing or is unconscious, incapacitated or otherwise unable to remove the mask without assistance.
The face cover is meant to protect other people in case you are infected
Do NOT use a facemask meant for a health care worker

Wash your hands often with soap and water for at least 20 seconds, especially after going to the bathroom; before eating; and after blowing your nose, coughing, or sneezing.

If soap and water are not readily available, use an alcohol-based hand sanitizer with at least 60% alcohol. Always wash hands with soap and water if hands are visibly dirty.
Steps to Self-Monitor for Coronavirus
Steps to self-monitor from the CDC include:
Take your temperature with a thermometer two times a day and monitor for fever. Also watch for cough or trouble breathing.
Do not take public transportation, taxis, or ride-shares during the time you are practicing social distancing.
Avoid crowded places (such as shopping centers and movie theaters) and limit your activities in public.
Keep your distance from others (about 6 feet or 2 meters).
If you do get sick with a fever, cough or have trouble breathing, call ahead before you go to a doctor's office or emergency room and communicate with your doctor about your recent travel.
If you develop symptoms, stay home and avoid contact with others. Do not go to work or school for this 14-day period. Discuss your work situation with your employer before returning to work.
The CDC has a special website set up with details about the coronavirus, including how it spreads and treatment.
Anyone with questions relating to coronavirus can call 2-1-1 or text "CTCOVID" to 898211. The 2-1-1 hotline is available 24 hours a day.
You can also visit the state's coronavirus information website here. Residents are encouraged to check the website for answers to questions before calling the hotline.
Learn More About Coronavirus - COVID-19
Associated Press and NBC Connecticut